Viavolt Grow Light Review
Our Viavolt Grow Light Review looks at the Viavolt line particularly the Viavolt T5 Grow Light V44 Kit available on Amazon. 
For many, indoor gardening is a passion. The activity is engaging or relaxing, and the yields are just an amazing benefit of taking part in something the gardener enjoys. But, if you don't have the right lighting, indoor gardening can go from fun to frustrating in the blink of an eye.
Luckily, there is a wide selection of high-quality grow lights available. Viagrow is the company that produces the Viavolt line, which focuses on grow lights and related components. Many indoor gardeners flock to the brand for their lighting needs. If you are considering a Viavolt T5 grow lightor one of the company's other options, here is a Viavolt grow light review that can help you decide whether its products are right for you.
About Viavolt Grow Lights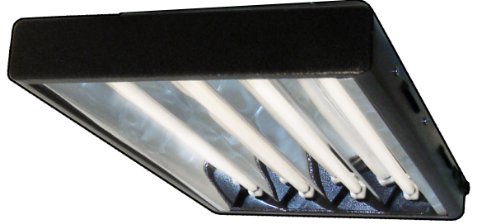 Viavolt grow lights are the creation of Viagrow, a company that concentrates on the gardening space. Along with horticultural lighting, it also offers a wide array of other gardening products, including professional-quality hydroponic systems.
The Viavolt line features a range of lighting products, including popular T5 fluorescent lighting systems. The "T" in "T5" stands for tubular, which denotes the shape of the bulb, while the "5" defines the diameter, which comes in at 5/8". Many consider T5 grow lights to be one of the best options around, thanks to their efficiency and light-creating capacity, and Viavolt is a preferred brand for many looking for systems in that size.
Viavolt Grow Light Pros & Cons
Viagrow has multiple kinds of fluorescent grow lights in its Viavolt line. However, when examined as a whole, the majority share certain pros and cons. Here's a brief overview:
Pros:
Efficient
Great color temperature
Quality construction
Good bulb lifespan
Reasonably cool lights
Cons:
Kits aren't cheap
Fixtures can be heavy
Viavolt Grow Light Review
Viavolt is a higher quality line for those who have moved beyond the beginning indoor gardening phase and are looking for something a bit more robust. Most of the fixtures have substantial coverage areas, making them ideal for indoor gardeners with more than a couple of plants inside.
The fluorescent bulbs work well, particularly propagating seedlings, clones, and plants. These grow lights are high-output, with each T5 bulb producing 5,000 lumens at 54-Watts per bulb.
Viavolt T5 Grow Light V44 Kit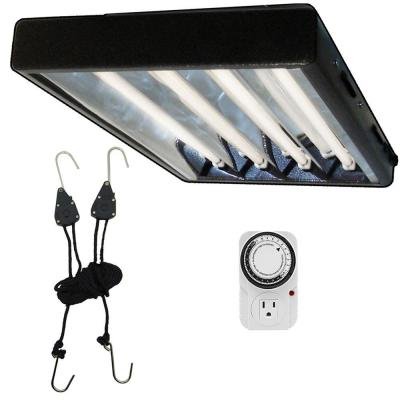 The Viavolt T5 grow light V44 kit has nearly everything you need in a grow light. Along with the fixture, the kit comes with T5 fluorescent bulbs, hanging cables, and a timer, which is incredibly convenient if this is your first large grow light installation.
Power and Operation
You also can control the amount of light that is produced by the fixture. The inner pair of bulbs is attached to one power switch, while the outer pair has its own switch. You can turn on just two at a time or run all four simultaneously, depending on your needs. However, the timer can't operate each switch independently, only the unit as a whole.
The power cord is a good length as well. You get 7 feet to work with, and that is more than sufficient for most indoor gardeners. As an added bonus, it is possible to daisy chain units together. Then, you can operate several lights off of a single timer.
Construction and Size
The fixture features a steel housing and sturdy construction. This makes the fixture feel incredibly robust, which many indoor gardeners would appreciate. However, it also means the fixture is a bit weighty, coming in around 14 pounds. Plus, it measures about 4 feet x 2 feet, which may be too cumbersome for a single person to handle. You might want to reach out to a buddy for help hanging it.
But the size also means you get a substantial coverage area. Depending on the hanging height, you can easily get two to four seed flats into the light. In some cases, you might be able to fit in a few more, though the light strength won't be as strong with that coverage level.
Inside the fixture near the bulbs is an aluminum reflector. This helps redirect as much light as possible toward the plants, supporting better growth rates. Additionally, the casing is slotted and louvered, directing any excess heat away from your indoor garden. While the bulbs can get a bit warm, the temperature output isn't considered out of line or excessive in most cases.
Light Spectrum
The Viavolt T5 grow light does focus more on propagation, so the included 6400K blue spectrum bulbs make sense for this use. However, it isn't ideal for certain growth phases, so that could be considered a drawback. You can switch out the bulbs as long as you choose alternatives that are T5's. If you need a different spectrum mix, that might be the way to go.
Kit Price
The Viavolt T5 grow light kit is moderately priced, coming in below $200 in many cases. This may not work for new indoor gardeners on a budget. However, it is also not the most expensive option on the market, so many will find this kit to be a great deal by comparison.
Warranty
While Viavolt is known for quality and durability, you can also take comfort in the company's warranty. Each Viavolt grow light comes with a one-year replacement or rebuild warranty. If a manufacturing defect is discovered during the first 12 months, the company will make it right.
Other Viavolt Grow Light Products
Price Disclaimer
Viavolt has numerous other products in its grow light line, all of which are generally considered to be high-quality. You can find single bulb fixtures that may be ideal for smaller indoor gardens or when you need additional control over light dispersion. There are also larger configurations, including eight bulb fluorescent grow light kits and greenhouse systems. Additionally, there is a range of fixture shapes available, including powder-coated grow light stands featuring steel construction.
The company also produces HID grow light bulbs, including high-pressure sodium (HPS) and metal halide (MH) versions. Plus, Viavolt makes LED grow light products as well. Indoor gardeners looking for Viavolt quality in those form factors can choose those products instead.
Ultimately, Viavolt grow lights are a reliable option. The price point is reasonable, and the quality is top-notch, making it a strong choice, especially for indoor gardeners moving out of the beginner phase.
Viavolt T5 Grow Light V44 Kit Review
Build Quality

Coverage

Value for Money

Cooling System

Energy Efficiency
Summary
While not as energy efficient as an LED grow light, the Viavolt V44 is a solid choice for a T5 grow light kit offering excellent coverage and build quality.
Enjoyed this post? Pin it!