The 5 Best T5 Grow Lights To Buy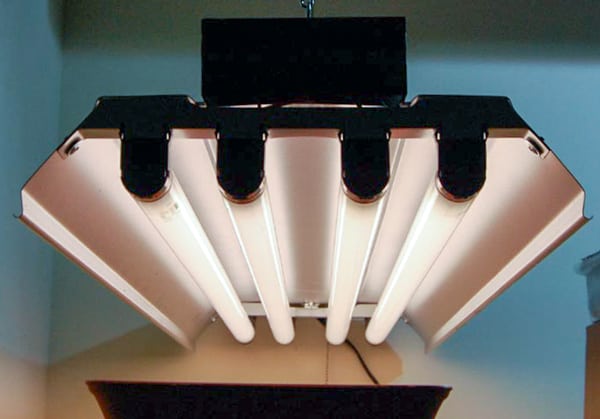 As you're well aware, I believe strongly LED grow lights are the best option for your indoor garden and grow tent setup. However, beginning gardeners may prefer to test the waters with a series of cheap T5 grow lights. In this article, I'll outline the five best T5 grow lights on the market today.
Best T5 grow lights
Fluorescent T5 grow lights are a type of lighting system commonly used by hydroponic gardeners (gardeners who grow their plants indoors). Unlike the more conventional HID and metal halide lights, T5 fluorescents are affordable and often cheaper to maintain in the long run.
Ordinarily, T5 fluorescent lights are highly energy efficient. This is because they produce a lot less heat, which often becomes wasted energy at the end of the day. Grow lights that generate a lot of heat also incur the additional cost of installing cooling fans to keep the plants from losing too much moisture. In comparison, T5 fluorescent lights emit light at a standard ambient temperature of about 95 degrees, and therefore there is no need for extra ventilation.
Despite being the smallest in diameter (about the size of a dime), T5 fluorescent bulbs are very popular with hydro farmers because of their high lumen per watt output. This is what makes them more energy efficient than larger bulbs, but it is also what makes them more expensive to buy.
For a serious hydroponic farmer, the cost of purchasing the most energy efficient grow lights in the market should be bearable, especially since grow lights tend to stay on for as long as 12 hours a day. Here are five of the highest rated T5 fluorescent grow lights you can buy.
5. Vivosun T5 Fluorescent Grow Light Bulbs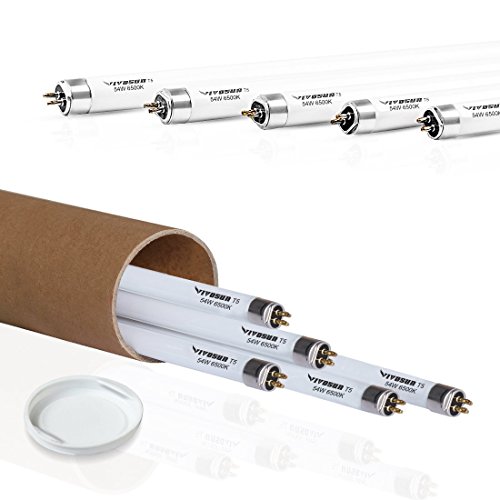 Each of the five fluorescent light bulbs in this set has a rating of 2,000 lumens and an average lifespan of 20,000 hours. The bulbs come in two-foot or four-foot lengths and can be used for clones, cuttings, or budding seedlings. Vivosun T5 grow light bulbs can be fitted into either hanging light fixtures or a ballast provided you add a reflective hood to maximize their light output. They can reach color temperatures of 6500K, which is required during the plants' vegetative stage but are also available in 3000K which is necessary during their flowering stage. Overall, these are the best T5 lights to use for all stages of plant growth.
Pros
Affordable
Good temperature range.
Available in different-sized options
Cons
Do not come with fixtures
Highly fragile
4. Hydrofarm 
Agrobrite Designer T5 

FLP48 T5 Fluorescent Grow Light System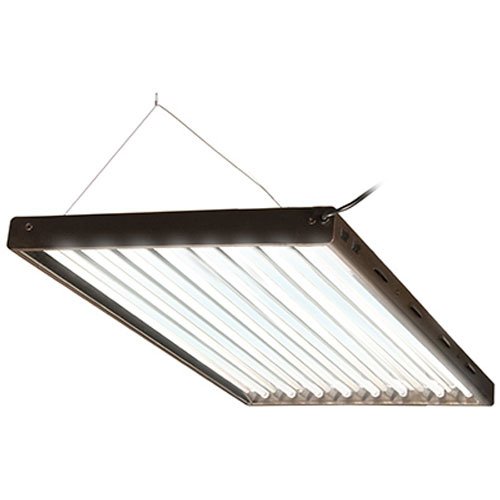 The Hydrofarm FLP48 T5 grow light system is arguably the best lighting system you can get for a small hydroponic garden. Not only is it built to last—it has a sturdy, powder-coated and textured steel frame that can survive almost every type of corrosive environment — but it also has eight four-foot tubes with a temperature rating of 6500K each. The manufacturers have also thrown in a handy switch that allows you to turn on four or eight lamps, giving you the power to control your garden's energy usage. The setup comes with a 10-foot power cord and all the hangers needed to install it vertically or overhead. The system is available in both two and four-foot lengths.
Pros
Comes with customizable light settings
Built durably
Suitable for smaller grow spaces
Cons
May require extra ventilation
3. Sun Blaze High-Output T5 Fluorescent Light Strip

This high output T5 light strip comes in two and four-foot lengths to suit gardens of all sizes. Built using ballast, the lighting fixture that encases the bulb is highly durable. The light strip comes ready to use straight out of the box. It is available in models that contain as few as one or as many as eight T5 fluorescents grow light bulbs, making it ideal for most hydro farms. Sun Blaze T5 grow light strips can be daisy-chained together to create the perfect lighting setup for your grow room. Every light strip comes with a two-year warranty that covers repair costs but not the replacement.
Pros
Lightweight
All hangers are provided
Fixture includes reflector hood, and T5 grow light bulbs
Cons
Each bulb has a light output of 2,000 lumens
2. Apollo Horticulture 6400K T5 Grow Light Bulbs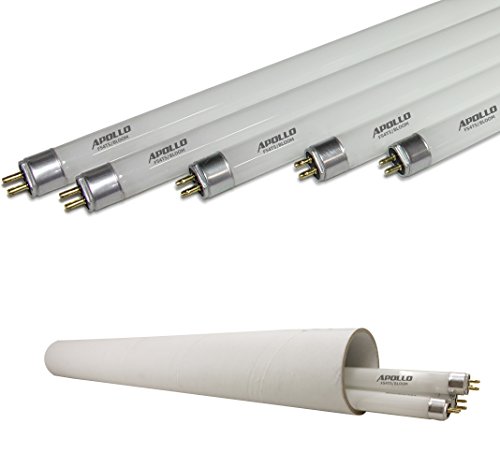 Each of the five 4,850-lumen light bulbs from Apollo can emit light at a color temperature of 6400K, which is enough for most stages of plant growth. For more specialized use, you can opt for the 2700K-rated set of bulbs, which are still quite inexpensive. These T5 bulbs can be installed in most 4-foot ballast or steel fixtures. The light output can be increased if a reflective hood is added to the setup.
Pros
Great build quality
Affordable
Cons
Fixtures and reflective hoods sold separately
1. AgroBrite FLT24 T5 Grow Light Fixture + T5 Fluorescent Bulbs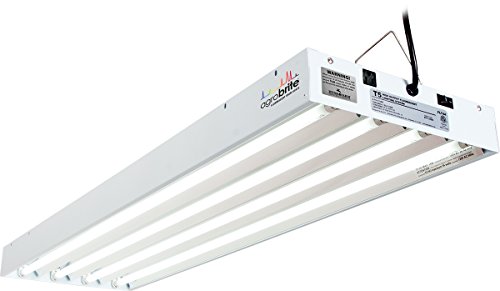 Despite being one of the most low-profile lighting setups you'll ever find, the T5 fluorescent bulbs that come with the AgroBrite FLT24 grow light fixture have a maximum light output of 8,000 lumens. The frame consists of powder-coated steel with a reflective hood to maximize the light output of the T5 bulbs. All the hanging necessities for installing this fixture overhead or vertically have been provided, and the whole setup can be ready for use straight out of the box. The fixture is available in two and four-foot lengths and with two, four, or eight T5 fluorescent light tubes.
Pros
High light output
Durable fixture
Setup includes bulbs and hangers
Cons
Additional ventilation may be necessary
Tips For Using Full Spectrum T5 Grow Lights
1. If you're not sure which light temperature suits which stage of growth, just buy a 6500K or 6400K grow light bulb. In addition to being the most widely available, they are also highly recommended for the growth stage. Once your plants reach the flowering stage, you should then consider purchasing 2900K or 3000K light bulbs.
2. Keep an eye on the soil when using T5 light bulbs because they tend to dry it up. You may find that you need to water the soil more often, so ensure you do this consistently.
3. Keep your grow room well-ventilated or at least ensure it is roomy enough. Even though T5 lights have the lowest heat emissions, smaller or poorly-ventilated rooms may become too hot for your plants.
4. Buy a T5 light bulb that is long enough to provide sufficient light coverage to all your plants. Shorter bulbs may not illuminate the ends properly, causing the plants in those sections to wither out or grow poorly.
5. Plants in their vegetative states require up to 18 hours of light a day to grow properly. This can be reduced to 12 hours of light a day once they reach their flowering stage.
Enjoyed this post? Pin it!