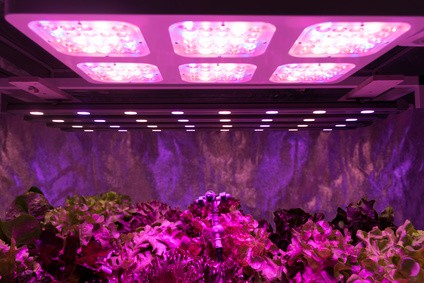 If you're reading this, it means you have recently become interested in growing plants indoors. Urban gardening is a fun and exciting hobby you can do just about anywhere, thanks to the availability of grow tents. These tents allow growers the unique ability to grow their choice of plants, even with insufficient space and access to sunlight. Because of this fantastic advantage, it's no wonder why growers and urban gardeners all over the world rely on their handy grow tents. This is why there are a lot of tent choices currently available on the market.
As a beginning grower, it is understandable if you are still confused when it comes to choosing the perfect grow tent to get your hobby started. To make the decision a little bit easier, here are some essential features to look for in a grow tent.
What to look for in a Grow Tent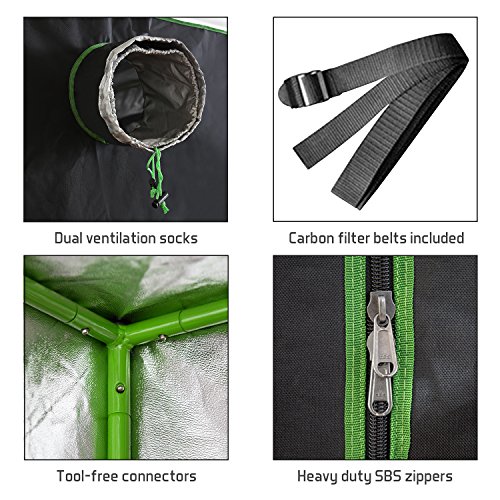 Fabric strength and density  fabric density
The central element of a grow tent is a cover which allows it to trap light within itself, and the stronger and denser the fabric your tent is made of, the better its quality is. The most impenetrable grow tents have covers measuring 168D and upwards, but the most common tent density is between 120D-160D. The fabric's primary function is to prevent light and smell from escaping the tent while keeping pests, spores, and other airborne contaminants out.
High-quality reflective material
The interior of the tent is just as, if not more important, than the exterior layer. The interior reflective material used will affect the quantity of light to which your plants are exposed. Since you are growing your plants indoors, reflected light is a necessity; the better your interior reflector is, the smaller the lights you will require.
Heavy-duty stitching and zippers
The most common problem growers encounter with their grow tents is light escaping from within. The best grow tents are lightproof, and two factors that significantly affect this is the stitching and the zippers. If the stitches are tight, about 8 to 10 stitches per inch, this will aid in keeping light inside the tent.
Zippers, on the other hand, are considered as the first point of failure because you use them every day. The wear and tear cause significant damage on a low-quality zipper, which can leave you with a gaping hole that allows excessive amounts of light to escape.
Frame and pole strength
The frame and poles that come with the tent bear the most weight, which is why it is essential to find a grow tent with sturdy and reliable poles and a frame that can withstand a considerable amount of weight. If you buy a tent with a weak structure, it might collapse as soon as you install a few LED grow lights inside.
Ventilation, exhaust, and cord ports
Most basic tents do not come with extra ventilation, exhaust, and cord ports; these are also necessary features. This will help you maintain a constant temperature and humidity.
Extra features to look for in your Grow Tent
One great thing about grow tents becoming more popular these days is manufacturers are adding a few additional features to make their product stand out. Most basic tents don't come with these added features; if they do, it will cost you a little more, but they are a significant advantage to have.
Removable flood trays
These trays are a godsend for those who like to maintain a clean grow tent. It makes cleanup much easier, especially when you accidentally spill water or other liquids inside.
Peek windows
Everyone loves to admire their plants once and a while, but having to open up your tent just to do so is a hassle and adds wear and tear to your plants and tent. This is why some of the best tents have an easy-to-access viewing window that allows you to look in on your plants whenever you want.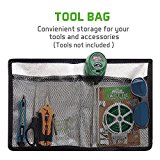 Pocket for tools
This added feature makes organizing and accessing your tools a breeze. A tool pouch lets you keep your tools in an efficient place, so they're easy to reach as you need them.
Our Guide to Buying the Best Grow Tent for the Money
Knowing the different must-have and added features you should look for in a grow tent is very helpful when you're new to the indoor growing game. But having them in mind is only a small step in actually finding the perfect grow tent. So, to help you in choosing here's a list of grow tents that have pleased growers over the years.
My Picks for the Best Indoor Grow Tent 2018
VIVOSUN 48"x48"x80" Mylar Hydroponic Grow Tent
If you are looking for a tried, tested, and praised high-quality grow tent, the VIVOSUN 48"x48"x8 Mylar Hydroponic Grow Tent is a great product to look into. It comes with the standard "big" size that allows growers to have an expansive indoor garden without having to consume too much space. The sleek design of this grow tent makes it an excellent addition for any urban farmer.
Continue reading for a summary of the VIVOSUN 48"x48"x8 Mylar Hydroponic Grow Tent's different features, the advantages, as well as the disadvantages.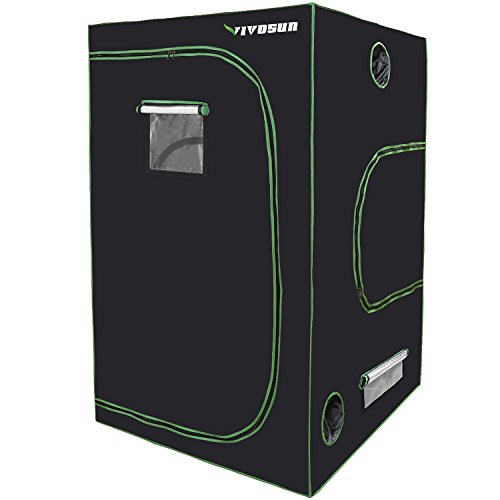 Features
Excellent lightproof capability
Mylar interior lining reflects up to 95% of light
Power and energy efficient
Double stitched canvas is extra-thick, tear proof, and made with high-quality material
Sturdy metal poles as a base
Easy to install and safe-to-handle finished frame
Comes with heavy-duty zippers
Fitted with easy to open and close observation window
No tool installation
2-year warranty
Pros:
Highly dependable and well-known grow tent brand
Excellent zippers, do not get caught on canvas
Durable, dense, and thick canvas
Seals light very well
Metal poles and frames can withstand great weights
Easy to install
Easy to access observation window
Affordable price for a tent with many added features
Highly recommended by fellow growers
48"x48"x80" size accommodates a lot of plants
Cons:
Not shipped discreetly
Setup may require two people
Stitching may be susceptible to light leaks
Zippers should be frequently oiled
May be too big for a beginning grower
Verdict
The VIVOSUN 48"x48"x8 – Mylar Hydroponic Grow Tent has a famed reputation within the grower's community, and it is a well-deserved reputation because this grow tent exceeds expectations. It helps indoor gardeners maintain a healthy and thriving indoor garden. This type of grow tent is best for growers who have already had some experience with indoor growing; if this is your first grow tent, it might be a bit much to handle.
Apollo Horticulture 96"x48"x80" Mylar Hydroponic Grow Tent
When you mention grow tents, even novices to the hobby will most likely recognize the Apollo Horticulture brand, as one of the first to produce grow tents and has since been releasing newer versions of the classic grow tent with better features. Although the tents have been redesigned a few times, Apollo Horticulture still produces high-quality and reliable grow tents.
For this short review, we will cover the features, advantages, and disadvantages of the Apollo Horticulture 96"x48"x80" Mylar Hydroponic Grow Tent. This will give you a better understanding of what to expect when you decide to purchase this grow tent for yourself.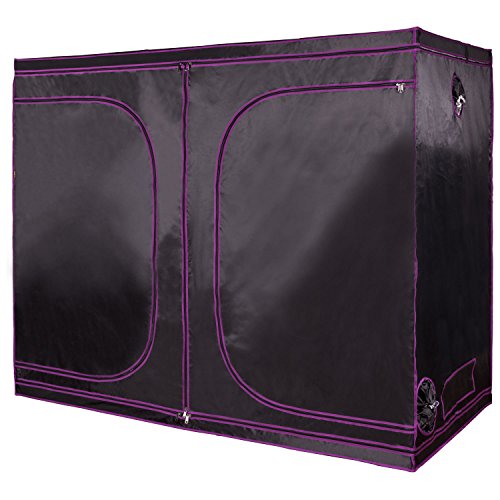 Features
Zippers are high-quality and heavy-duty
Canvas is double stitched for added lightproof capability and durability
Heavy-duty material used for tent
Metal poles are reinforced for added stability and security
Highly reflective and tear proof Mylar lining
No odor leaks, and prevents pests from entering
Comes with a removable Mylar floor tray
Perfect for growing plants, herbs, fruits, flowers, and vegetables
Apollo offers exceptional customer service
Pros:
96"x48"x80" standard size for ample planting space
Reasonably priced, high-quality tent
Easy to assemble
Metal zippers with strategic stitching lessen light leaks
Easy to control and maintain an internal temperature
Floor tray makes cleanup easy
Trusted and highly recommended grow tent brand
Keeps odor in and pests out
Cons:
You may see a few light leaks
The frame cannot hold too many LED lights
Canvas can rip if leaned on
Verdict
If you are looking for a standard grow tent that is highly praised by many users, the Apollo Horticulture 96"x48"x80" Mylar Hydroponic Grow Tent offers you all the standard features with a few extras. Although there are brands that are much cheaper than this grow tent, it is worth it to know that you are paying for excellent quality and amazing customer service as well.
TopoLite 120″x120″x80″ Largest Grow Tent Review
Advanced indoor gardeners are always looking to expand their yields but it's impossible to expand if you are restricted by the size of your grow tent. The best largest grow tent on the market nowadays is the TopoLite Grow Tent, which you'll learn more about in this summarized review.
Features
Bigger Dimensions – at 120x120x80 this is one of the largest grow tents you can buy currently
Extreme Protection from Light Leakage
Spacious Interior for more LED grow lights and plants
Split Floor is Removable
Pros:
Extra space allows for better productivity
Efficient for use
Easy to assemble
Cons:
Zipper may cause issues
More expensive than smaller models
Verdict
If you need an extra large grow tent and you don't mind the minor setback with the zipper, then the TopoLite Grow Tent is an excellent choice for you.
CoolGrows 2x2x4 Feet Small Indoor Mylar Hydroponics Grow Tent
The reason why many people opt for indoor gardening is due to the limited space they have for an actual garden. Grow tents help save space, but some are still too big to fit the small spare spaces most people have at home. This is why the CoolGrows 2x2x4 Feet Small Indoor Mylar Hydroponics Grow Tent, which is smaller in size, is also a great option to consider, especially if you're not planning on growing a large number of plants.
This summarized review will talk about the features, pros, and cons of the CoolGrows 2x2x4 Feet Small Indoor Mylar Hydroponics Grow Tent to give you a glimpse of what it offers interested growers like you.
Features
Lightproof
Mylar lining is 99% reflective
Ample room for an efficient lighting setup
Tear-proof canvas with heavy-duty stitching
Metal bars and connectors for easy assembly using click connector system
Fitted with removable and water resistant spill tray
Easy to clean
Designed to look like a wardrobe
Very discreetly packed
Comes 2 two nylon hanging straps
Pros:
Compact size, nearly half of standard grow tent sizes
Very discreet, does not draw attention to itself
Perfect for beginners
More affordable than the standard size
Fitted with vent windows for increased airflow
Observation window allows you to peek at your plants anytime
Easier to assemble
Sturdy and reliable despite its size
Very lightproof and light reflective
Cons:
Not enough room for many plants
No instruction manual included
A piece or two were missing from the sets of some buyers
Verdict
If you're not ready to jump head first into indoor and urban gardening, or you have very limited space but still want to grow plants indoors, the CoolGrows 2x2x4 Feet Small Indoor Mylar Hydroponics Grow Tent is the grow tent for you. It is extremely compact, handy, and easy to assemble. This is one of the most highly recommended grow tents for beginners who prefer to start small.
Conclusion
Grow tents are must for every indoor and urban gardener. Finding the best grow tent is a mission that all growers must undertake, and it may take a few tries until you finally get your hands on the perfect tent for your needs.
Another vital aspect to consider is how to achieve the best indoor grow tent setup for your plants. This will play an essential role in whether your plants thrive or die inside the tent. Make sure to do a lot of research before investing in a hobby like urban gardening.
If you are willing to take the extra steps and invest in the right tools and equipment, you will find yourself enjoying a bountiful harvest in no time. Don't rush into buying the first grow tent that you come across; pay attention to the features and the details, and you'll thank yourself later.
Enjoyed this post? Pin it!