G8 900 Watt MEGA LED Grow Light Review
The G8 900 Watt Mega LED grow light is the flagship of G8's range and is one of my top 10 best LED grow lights of 2017.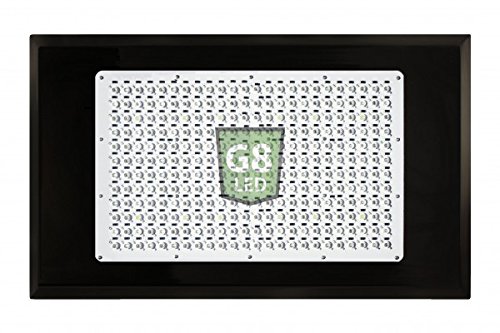 G8 LED G8-900 Grow Light Features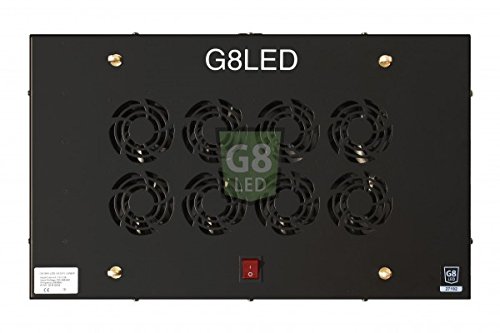 Awarded by The High Times as "The Best LED Grow Light of 2016," the G8-900 grow light features all the primary components you need to ensure your indoor flowering and vegetating plants receive optimal lighting. It is the best LED grow light offered by G8 for professional indoor vegetable and flowering plant growers to provide specific lighting throughout the various growth stages. It produces 8-bands of PAR, IR, UV and 6000K spectrum light fully adjustable to your needs. There is also an option to add two 90W red UFOs in order to increase the flowering yield of the plants.
G8LED uses the finest quality LED lights in the manufacturing process. This allows the lights to enjoy a lifespan of at least 50,000 hours and helps users to save power at a rate of at least 800W every hour. With such a long life and power saving capability, it is arguably one of the best lights for indoor growing that money can buy.
Product Specifications
300 3W LEDs
8-band PAR plus IR, UV and 6000K spectrum
Minimum coverage of at least 24 square feet
Real-time power usage stands at a mere 620W (less than half the power of a traditional 1400W HID system)
Lifespan of 50,000 hours (equivalent to 15 years with an average use of 8 hours per day)
A total of 8 ventilation fans mounted on top for excellent heat management
Operates on mains current with specifications of 110-240VAC
Additional heat management or ballast not required as it operates cool
Measures 20 x 14 x 3 inches and weighs only 22 pounds
G8 LED G8-900 Grow Light Pros
The biggest LED grow light on offer from G8 LED
A single light that can be used for the flowering stages of the plants as well as the vegetation stages
Offers great canopy penetration and can go as deep as 60 inches
High lifespan due to great LED technology means massive reduction in the number of lamp changes
Cool operation due to excellent heat management system using 8 ventilation fans
Reduced power usage when compared to HID lighting systems
An impressive warranty of 2 years offered by the manufacturer

G8 LED G8-900 Grow Light Cons
As with every product, there are some drawbacks consumers should consider before purchasing. Some of these include:
The G8 LED grow light does produce heat, albeit in small quantities. Hence, indoor growers may need to use minor heat management processes to maintain total temperature control over their grow room.
The light does not feature daisy-chaining capability.
Final Verdict
This LED grow light has received numerous positive reviews from users, online as well as offline. In fact, there has been little to no negative review of this amazing grow light. The G8 LED 900W grow light has emerged as one of the best units for managing green and healthy indoor gardens that offer robust outputs. The manufacturer has been able to prove it is focused on offering long-term solutions to indoor growers without compromising the quality or outputs of these LED grow lights. This has helped them to emerge as a leader in the industry for making the best LED grow lights.
G8 900 Watt MEGA LED Grow Light Review
Build Quality

Coverage

Value for money

Cooling System

Energy Efficiency
Summary
If you are looking for a superior 900W grow light that will be an excellent long-term investment the G8 900W is an excellent choice.
Enjoyed this post? Pin it!