Phlizon Grow Light Review
When you want your indoor garden to thrive, having the right lighting is critical. If the lighting isn't appropriate for the plants you're trying to grow, they won't reach their full potential. Maybe your garden won't flower and bloom, or your yields will be low. When this happens, what can be a fun business or hobby soon becomes a frustrating venture.
Luckily, there are some exceptional LED grow lights available today, including options by Phlizon, a company that produces some fantastic grow lights. If you want to make sure your indoor garden can flourish, here's what you need to know about Phlizon as a company, as well as a Phlizon grow light review.
About Phlizon Grow Lights
Established in 2012, Phlizon is a lighting manufacturer that focuses mainly on LED grow lights and LED aquarium lights. While they may be younger than some other leaders in the space, Phlizon has a solid reputation for making quality products at affordable prices.
Plus, a Phlizon grow light is also economical after the purchase. The LED technology is incredibly efficient, reducing power consumption.
Phlizon Grow Lights Pros & Cons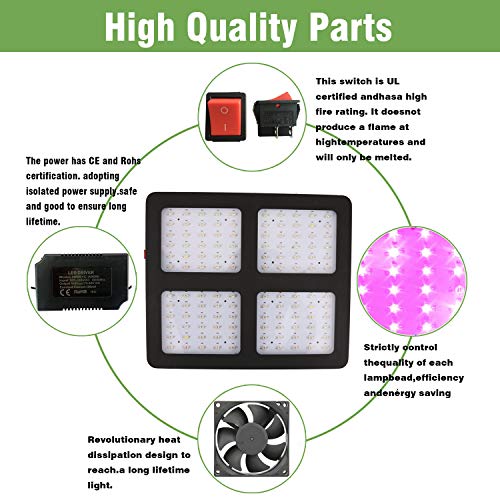 As with many grow light manufacturers, Phlizon has many products in its LED grow light line. While each option is a bit different, they do typically have a few things in common. Here's a quick overview of the Phlizon grow light line's pros and cons:
Pros:
Competitive price
Energy efficient
High PAR output
Full-spectrum light for improved yields
Substantial coverage area
Quiet operation
Daisy chaining is an option
Cons:
Not waterproof
Shorter power cord
Phlizon Grow Light Review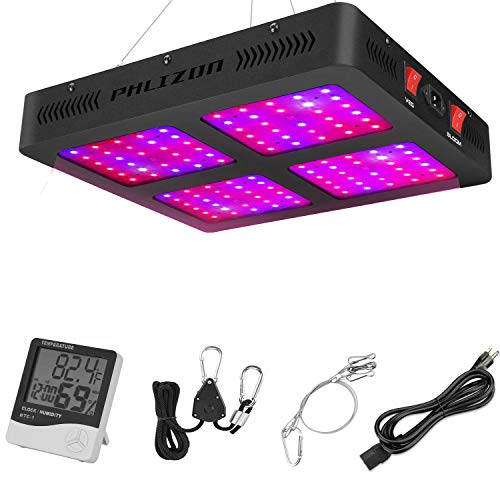 As a brand, Phlizon creates robust and reliable grow lights. Nearly every product offers full-spectrum lighting, ensuring that plants can get exactly what they require for every stage, including growth, flowering, and vegetative.
Plus, the majority have an exceptional feature set. For example, safety is a priority for Phlizon. As a result, they don't use reflectors that may look attractive but could become a potential fire or heat hazard. Cooling is also critical in the eyes of Phlizon, so each light includes robust heat dissipation technology.
Many of the options, including the Phlizon 1200 watt LED grow light, can be found in full kits. Along with the lighting unit, you can get humidity monitors, thermometers, and adjustable ropes or hanging cables. This is incredibly convenient for new indoor gardeners who need a full setup instead of just a lighting unit.
Plus, you can daisy chain many of the lights. This allows you to string several together to create your ideal coverage area, so you don't necessarily have to buy a bigger light to get more coverage.
Since the company has a full range of LED grow lights, there is some variance between each product. However, by taking a closer look at one of their most popular models, you can better gauge what Phlizon brings to the table.
Phlizon 1200 Watt LED Grow Light Review
Part of their high power series, the Phlizon 1200 watt LED grow light is a solid option for those who need a significant amount of coverage at an affordable price. Its core coverage is a 2-foot by 2-foot square. However, it can provide some coverage over a slightly larger 2.5-foot by 2.5-foot area.
The 1200w Phlizon LED grow light offers full-spectrum light as well, covering red, blue, and white. Its PAR value is excellent and it's incredibly efficient, pulling only 191w of power. This is partially thanks to the use of 10w LEDs instead of 5w or 3w. The 10w LEDs ensure your plants get enough light while using fewer bulbs.
The LEDs also have a great lifespan. In total, you should get a minimum of 50,000 hours worth of use from this LED grow light. That means, suggesting it was always on, you could run it for more than five years.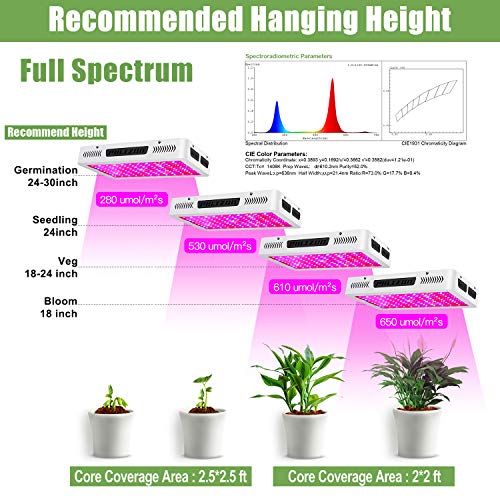 As mentioned above, safety is a priority for Phlizon. As a result, the PC cover is fireproof. Plus, it relies on a metal frame, so the light also feels tough and substantial.
In comparison to some other LED grow lights, the 1200 Watt LED grow light from Phlizon also runs fairly quiet. This can be ideal for anyone who has an indoor garden near areas they frequently use, ensuring they won't be unnecessarily disturbed by the noise.
The biggest drawbacks to this Phlizon grow light are that it isn't waterproof, and some people find that the light's power cord is a little short. While the latter can be solved with an extension cord, the former requires that buyers take care to keep the light dry.
Other Phlizon LED Grow Light Products
Phlizon LED grow lights are available in a range of wattages. In the high power series, you can find the 1200w as well as 1800w and 2000w. However, if you shift to the Phlizon CREE COB grow light, you can find options as high as 3000w.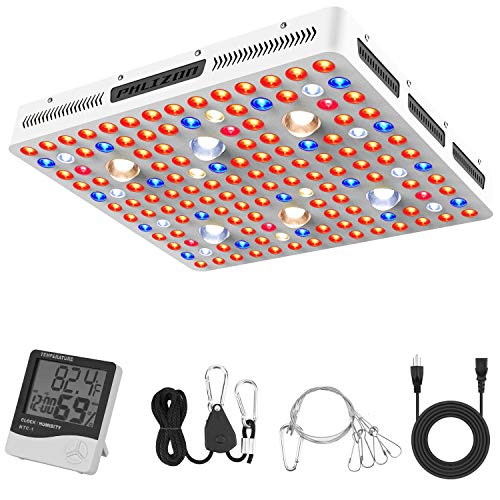 But, you don't have to be thinking big if you want to use Phlizon grow lights. There are also smaller options for those who don't need a lot of coverage. You can find 600w, 900w, and 1000w versions of many of Phlizon's most popular light designs, which may be best for smaller indoor gardens.
Plus, while the majority of the Phlizon products aren't waterproof or double switch, the company does have options that are. There is a dimmable 600w LED grow light that is ideal for hydroponic grows, since it's waterproof, and a 1200w Double Switch series option for those who want more control.
While customers are generally satisfied with their Phlizon grow lights, you can also rest assured knowing that the company stands behind its products. Many of the lights come with 30-day money-back guarantees. Additionally, you'll warranty coverage for up to two years, just in case you need assistance with your light.
Ultimately, the Phlizon grow lights are an excellent choice for many indoor gardeners. They are capable and affordable. Plus, you get access to full-spectrum light in an energy-efficient design. For the price, Phlizon isn't easy to beat.
Phlizon 1200 Watt LED Grow Light Review
Build Quality

Coverage

Value for Money

Cooling System

Energy Efficiency
Summary
The Phlizon Grow Light offers great bang for your buck and is the perfect entry to mid-level LED grow light.
Enjoyed this post? Pin it!