Everything You Need to Know About the LEC Grow Light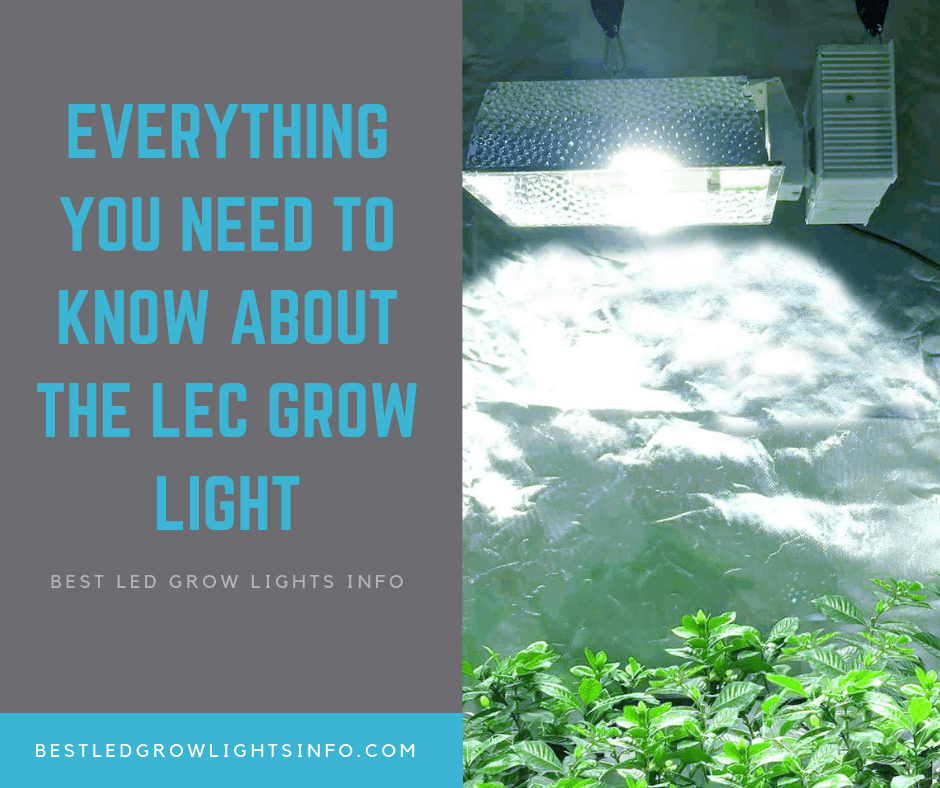 Indoor gardening is incredibly popular. Whether you have little outdoor space for gardening or want to maintain a yield year-round, creating an environment where your plants can thrive inside is often the best choice.
However, when you garden indoors, your plants may not get the light they need without some assistance. Grow lights serve as an artificial source of crucial light, usually encompassing a range of spectrums plants need to flourish. The LEC grow light is emerging as a popular choice, offering a broad spectrum of light and excellent performance.
If you aren't familiar with the technology, here's what you need to know.
What is an LEC Grow Light?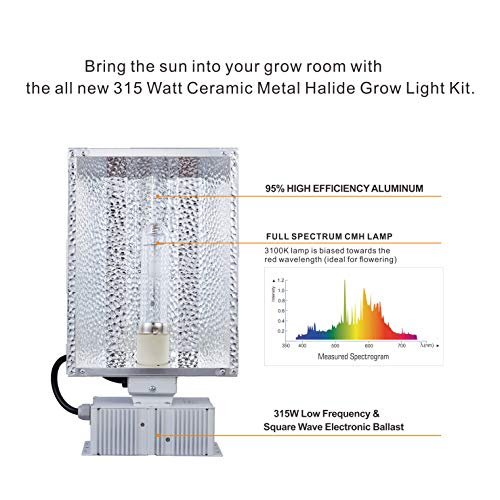 An LEC grow light uses Light Emitting Ceramic (LEC) technology. It's a newer interaction of high-density discharge (HID) bulbs that create light that better mimics natural sunlight. With a full spectrum of light, plants can become healthier and stronger. This can improve both growth and yield rates, increasing the overall efficiency and productivity of an indoor garden.
LEC grow lights also use less energy than traditional bulbs. This can help indoor gardeners save on their electric bill and also makes the technology "greener" overall. They also have a respectable lifespan, with some manufacturers claiming their bulbs only need replacing every two years or thereabouts.
It is important to note LEC grow lights do run at a fairly high temperature. In many cases, gardeners will need to invest in cooling systems or select options that come with cooling technologies.
Additionally, LEC is actually a trademarked term for a specific brand. As a result, the same technology is referred to by other names if a different manufacturer produces a similar light with the same base characteristics.
What is a CMH Grow Light?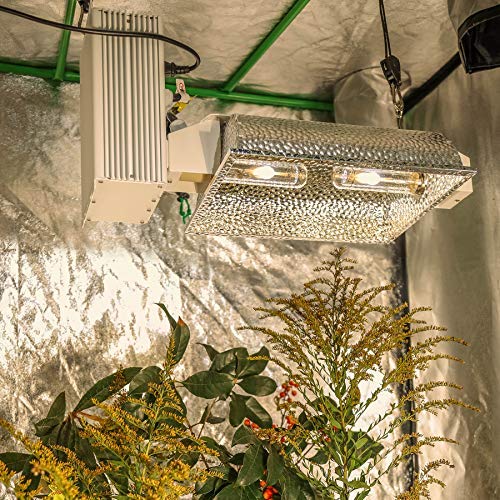 A Ceramic Metal Halide grow light (or CMH grow light) is just another term for the LEC grow light. The technology is largely the same, but the terminology varies based on the manufacturer. Similarly, Ceramic Discharge Metal Halide grow lights (CDM grow lights, for short) fall in this category as well, merely being another name for the same concept.
In many cases, CMH is considered the general term for the kind of light involved. However, all of these grow light systems rely on specialized ceramic tubes that can sustain higher temperatures. This allows the CMH light bulbs to have higher outputs than a typical HID grow light. Additionally, they typically produce better spectral color or color rendering index (CRI), making the light closer to actual sunlight than some other artificial light options.
As mentioned above, LEC is a trademarked term. Just because a light is called a CMH grow light and not an LEC grow light doesn't mean it inherently differs in quality or capability. However, as with all products, not all manufacturers or grow lights are created equal.
LEC vs LED Grow Lights
Even though their acronyms only have a one letter difference, LEC and LED technologies are incredibly different. With an LED grow light, you will have a single, long bulb that can emit a wide spectrum of light. With light-emitting diodes (LEDs), a series of small lights (called diodes) are operated together. Each diode is set for a specific light spectrum, creating a broad spectrum by combining the light from a series of diodes.
Additionally, LED grow lights do have some capabilities that LEC grow lights don't. For instance, LEDs are micro-adjustable and dimmable, with LEC lights are not. This allows indoor gardeners to adjust the light spectrum based on a plant's growth phase, changing the quantities of red and blue light with a simple turn of a dial or flip of a switch.
Typically, LEDs also have far superior lifespans. It isn't uncommon for an LED to last well beyond two years. Some LED grow lights have six-year lifespans. Others cross the 10-year mark for longevity under fairly normal use.
LEDs may also run cooler than LEC grow lights. However, this depends on the grow light systems involved, as many solutions have built-in cooling to help dissipate heat. They are also more efficient and generally cheaper to use.
LEC grow light review information does show LEC technology coming out ahead of LEDs when it comes to creating the type of light plants need to thrive. They are simply better at creating the wide color spectrum, even when various LEDs are combined to mimic natural light.
The 5 Best Ceramic Metal Halide Grow Lights on Amazon
As CMH grow lights become more popular, indoor gardeners have more options to choose from. This can make finding the right ceramic metal halide grow lights feel a bit challenging as sorting through every possibility can be a cumbersome task.
Luckily, certain CHM grow lights do come out ahead. Here are five of the best ceramic metal halide grow lights available on Amazon right now.
1. VIVOSUN 630W Ceramic Metal Halide Grow Light Fixture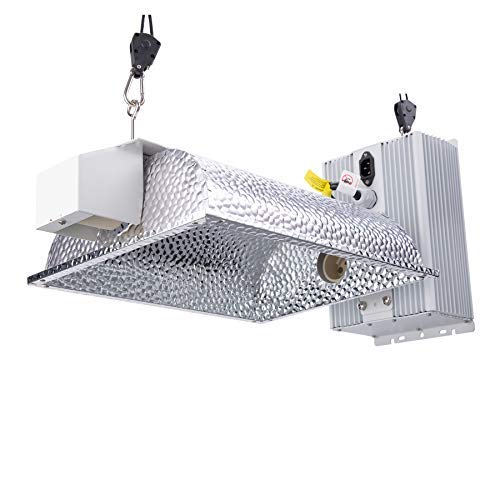 The VIVOSUN 630W CMH Grow Light Fixture has highly reflective aluminum to steer the light towards your plants, resulting in a higher yield. It supports two 315w CMH grow light bulbs, ensuring a broad light spectrum to support the needs of plants during all phases of growth. Plus, it can cover a 3-foot x 3-foot space during the vegetative state or about 6 square feet during the bloom state, giving ample coverage.
The high-tech ballast is also fairly lightweight and can be supported with the included hanging cables. It also comes with protection against overheating, short-circuiting, ignition failure, and end-of-bulb-life.
As with many CMH grow light systems, this unit can get a bit hot. As a result, you might need to consider some room ventilation or temperature control options to ensure the environment remains conducive to plants.
Pros:
Ultra-long cord
Protections against common concerns
Suspension system included
Cons:
Bulbs must be purchased separately
Can run hot
2. Eye Hortilux CMH 315 Grow Light System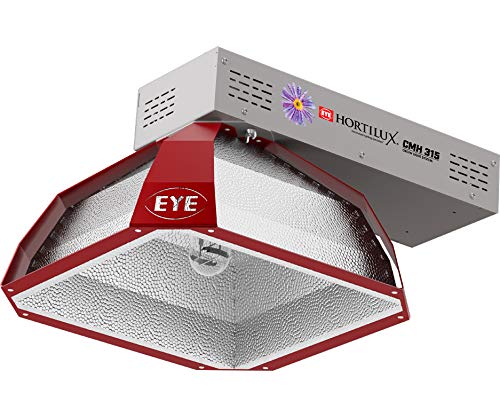 The Eye Hortilux CMH 315 Grow Light System has a proprietary spectrum that provides 50 percent more UV light than certain competitor models, supporting greater plant growth and yield, while still covering the full light spectrum. This unit is designed specifically to better mimic natural sunlight, which can help your indoor garden thrive.
Additionally, this 315w CMH grow light system covers a 3-foot x 3-foot area, providing most indoor gardens with the kind of coverage they need. The reflector can be replaced with ease if it gets dirty or becomes damaged during cleaning, ensuring you don't have to replace the entire system just because the reflector isn't in the best shape.
Many consider this the best CMH grow light available on Amazon. However, it is a bit costly, so it might not work for those with a modest budget. Further, it is a heavier light (just over 20 lbs.), so that needs to be taken into consideration when hanging.
Pros:
More UV light than many competitors
Replaceable reflector
Comes with a bulb
Cons:
Expensive
Does not come with hanging cables
Over 20 lbs.
3. TopGrow 315w CMH CDM Grow Light Kit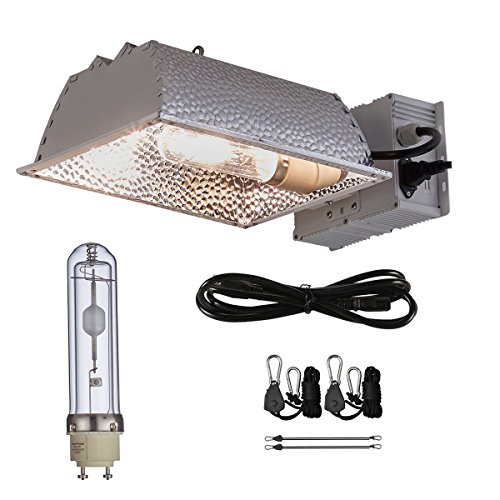 If you want a complete setup in a single purchase, the TopoGrow 315w CMH CDM Grow Light Kit is a solid choice. Everything you need comes with the lighting system, including the bulb and suspension cables.
Plus, it is very reasonably priced, making it a good option for new indoor gardeners or those on a budget. It is substantially cheaper than many LEC 315w grow light variants (which use a proprietary version of the CMH bulb technology) but produces a similar result.
This solution offers a coverage area of 4-feet x 4-feet. However, the company also produces stronger lights, including one that crosses the 600-watt metal halide grow light threshold, which may be a better choice for those who need more coverage.
Unlike some other options, this grow light doesn't come with a traditional on/off switch. Instead, you either have to use a timer or unplug the unit to shut the light off when needed. Additionally, these solutions do tend to run hot.
Pros:
Reasonable price
Complete kit
Great coverage
Cons:
No on/off switch
High heat
4. iPower 315w 4200K Ceramic Metal Halide Grow Light System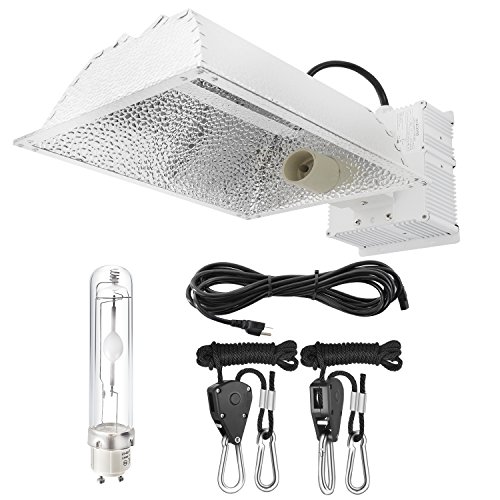 Another option that includes everything you need is the iPower 315W 4200K Ceramic Metal Halide Grow Light System. You get the fixture, suspension cables, and bulb for a very competitive price too, making it ideal for budget-conscious buyers.
The aluminum reflector offers 98 percent efficiency, ensuring as much light as possible is directed toward the plants. It also runs fairly quietly, which is a bonus for those who have the light in a room near spaces they use frequently.
This light isn't particularly heavy either (about 10 lbs.) which can make it easier to hang than those made by some competitors. Two cables are provided for hanging, though the manufacturer does recommend using three, which would require an additional purchase.
This system only comes with a 240v cord, so you'll have to buy a power cord separately if you need 120v instead.
Pros:
Complete kit
Competitive price
Lightweight
Cons:
Only 240v cord is included
Two suspension cables included though the manufacturer recommends using three
5. Hydro Crunch 630-Watt Ceramic Metal Halide Dual Enclosed Style Grow Light Fixture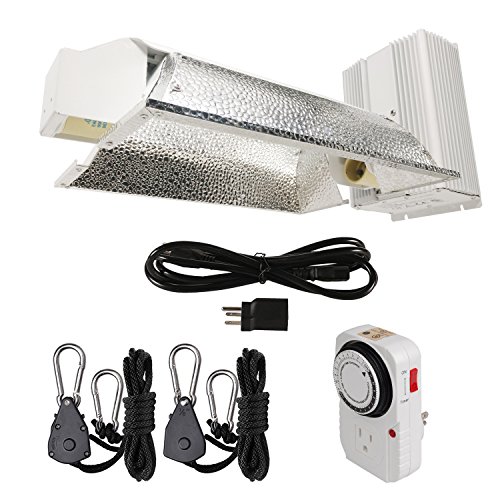 The Hydro Crunch 630-Watt CMH Dual Enclosed Grow Light Fixture comes with nearly everything you need to get started. The fixture and suspension cables are included. However, it doesn't come with a bulb, so you will need to purchase that separately.
When it comes to coverage, this system can be used in a 6-foot x 6-foot area, allowing you to have a larger growing space without needing additional lights. The light has been optimized for the bloom phase, meaning there is more red light, but still offers full-spectrum light to support all growth phases.
This grow light isn't the cheapest option available, so some may find it unaffordable, particularly since bulbs have to be purchased separately. However, with its larger coverage area, it could allow indoor gardeners to get the coverage they need with a single light instead of two.
Pros:
Comes with suspension cables
Large coverage area
Cons:
No bulb with purchase
A bit expensive
Enjoyed this post? Pin it!