Advanced Platinum Series P600 Grow Light Review
The Advanced Platinum Series P600 grow light my choice for the best 600W grow light and is one of my top 10 best LED grow lights of 2017.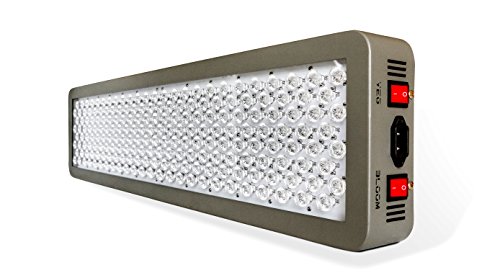 The Advanced Platinum Series P600 LED grow light is among the most powerful LED grow light panels available on the market in the 600 watt range. This amazing unit utilizes the complete 12-band light spectrum and provides the most PAR (Photosynthetically Active Radiation) per watt compared to most LED grow lights available today. Hence, it is the ideal grow light for indoor growers around the globe.
The 12-band light spectrum ranging from UV to IR means the P600 is able to offer plants adequate light for photosynthesis. This makes the panel one of the best for plants in their flowering as well as the vegetative stages.
Advanced Platinum Series P600 Grow Light Features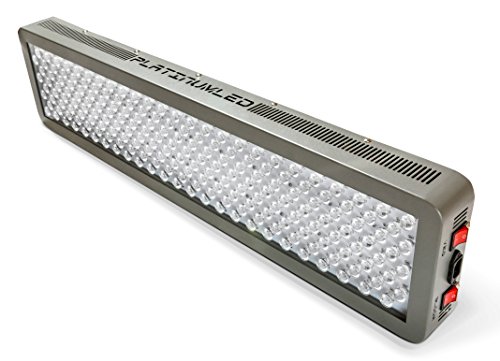 The P600 LED grow light offers a number of key features that are important for indoor plants during their flowering and vegetative stages. These key features include:
Durability
Advanced Platinum LED grow lights have a sturdy build and a robust construction allowing indoor gardeners to use them for years on end without needing to replace them. Moreover, the setup process is fairly easy and quick to get up and running.
Variability of the Light Spectrum
The unit is equipped with a switch that can be programmed to offer variable bands of light from a 12-band spectrum to ensure individual plants are provided with the necessary lighting conditions for each stage of growth. The availability of a complete spectrum of light means that any spectral output, ranging from UV to IR, can be offered to the plants based on individual requirements. This will help the plants to receive and utilize an efficient and effective light source that will enable them to thrive.
Extensive Coverage
The Advanced Platinum LED P600 offers a broad coverage area of 25 square feet at a height of 18 inches, which is fairly impressive when it comes to LED grow lights. With such an extensive coverage area, indoor gardeners will be able to ensure maximum yields from their crops.
Product Specifications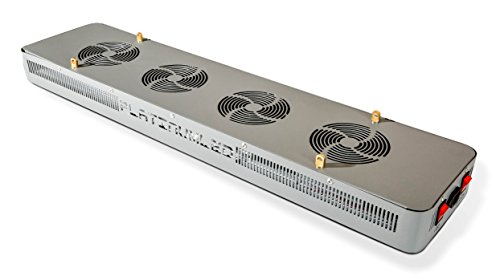 Dimensions: 26 inches X 8 inches X 3 inches
Wattage: 184W during the vegetative stage and 345W during the bloom stage
Weight: 24 pounds
Maximum Coverage Area: 25 square feet at 18 inches
Lifespan: At least 100,000 hours
Diodes: 200 X 3W
Advanced Platinum Series P600 Grow Light Pros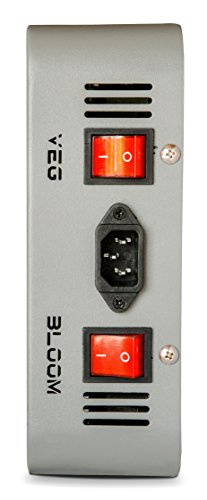 Highest PAR per watt output in the industry
A switch to alternate between Vegetative and Bloom stages
Finest LED panel built in the USA available in the market
An impressive warranty period of 5 years
Advanced Platinum Series P600 Grow Light Cons
A considerably high price tag
The light can be extremely bright. Indoor gardeners may need to use eye protection when working under these lights.
Final Verdict
The Advanced Platinum LED P600 is one of the finest 600 watt grow lights available on the market currently. With a full spectrum of 12 bands on offer, indoor gardeners will be able to provide the extact type of light each plant requires at each stage of its growth cycle. Moreover, with the highest PAR rating per watt, the plants will be able to receive the best lighting conditions and produce optimum yields, regardless of the season or outdoor lighting condition.
Build Quality

Coverage

Value for Money

Cooling System

Energy Efficiency
Summary
The Advanced Platinum Series are the very best indoor LED grow lights in the 600-watt range.