Best Led Grow Lights Under $200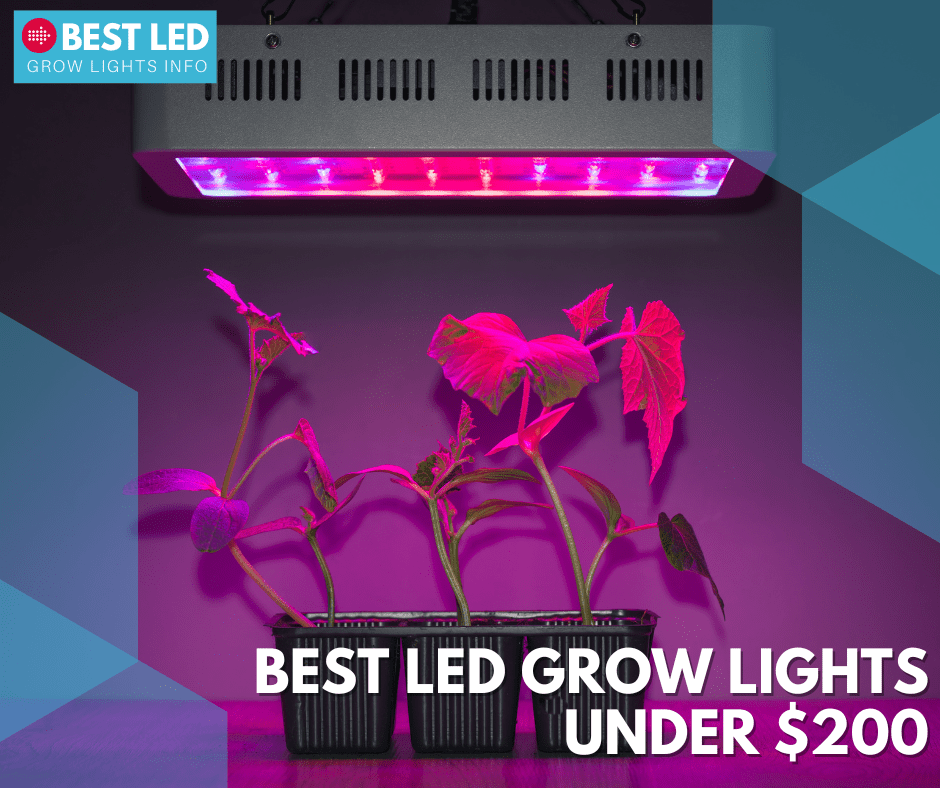 When I first started my journey as an indoor gardener, the idea of investing too much in a grow light was hard to swallow. While I knew lighting made a difference when it came to flowering and veg yields, I just couldn't bring myself to spend $400, $500, or more on a single light. Luckily, I didn't have to since there are some fantastic affordable LED grow lights available.
Some of the best LED grow lights under $200 aren't just solid choices for beginners. At times, they match or exceed what you can get with a far more expensive light. If you need to make sure you don't break the bank but still want a stellar product, here is a look at some of the best inexpensive LED grow lights around.
Best Led Grow Lights Under $200
If you're looking for the best grow light under $200, the VIVOSUN VS1000 LED Grow Light is an excellent option. The Samsung LM301 diodes give you exceptional energy efficiency, providing uniform light output with far less electricity consumption. Plus, the Sosen driver is a reliable platform. Bring that together, and you get a dimmable solution that mimics natural sunlight, supporting everything from germination to blooming to veg.
And no VIVOSUN VS1000 LED grow light review would be complete without mentioning that it's a fanless design, which makes it a quieter option for indoor growing. Plus, the heatsink keeps heat under control, ensuring your plants remain in good shape.
Pros:
High energy efficiency

Full spectrum light

Dimmable

No fan noise

5-year warranty
Cons:
Only supports 2 to 4 plants
Verdict:
If you only have a few plants, the VIVOSUN VS1000 LED grow light is a cost-efficient option that's easy to use, offering full spectrum light to meet any growing need.
Another contender for the best budget LED grow light, the Kind LED X80 Grow Light Bar, is worth considering if you need to support a particular growth phase. The diodes are highly tuned to a specific plant stage, making them highly effective at what they do. While that means you can't use one light for both flowering and vegetative phases, it could be worth considering if you prefer a specialized approach.
The biggest drawback is that you can't cover multiple growth phases. However, it's also important to note that this light is heavy, weighing about 10 lbs. While it also offers excellent coverage, that does make installation more difficult.
Pros:
Optimized lighting for specific growth stage

IP-65 Rating and ETL Listed

4-foot light bar offers ample coverage
Cons:
Light only covers one growth phase

Heavy, weighing in at nearly 10 lbs.
Verdict:
If you're looking solely for a Kind LED veg light or one specializing in flowering, this Kind LED bar could be your perfect match. Just understand that you'd need a second light to cover other phases, which may make this option a bit too expensive for some.
Another incredibly affordable option, the BESTVA Dimmable Pro1000 LED grow light, gives you a reasonable sleek form factor, full-spectrum light, and energy-efficient Samsung LM301H diodes. Plus, you can use the knob for dimming, ensuring the lighting is ideal for all your plant needs.
Now, I do want to point out that the coverage is limited to about 9 square feet. However, that's not unreasonable considering the price. Additionally, while the dimming is a nice feature, you're using a knob, so there is a little less precision. Still, it's a hard light to beat at this price.
Pros:
Energy-efficient

Full spectrum lighting

Dimmable

Noise-free fanless design
Cons:
Only 9 sq. ft. of coverage

Dimmer uses a knob, making it less precise
Verdict:
For a cost-efficient, affordable LED grow light, the BESTVA Pro1000 brings high-end features to the table without a big price tag.
Easily one of the best budget LED grow lights around, the BESTVA 2000w gives you more coverage than the Pro1000, coming in at up to 20 square feet. Plus, it's full spectrum light, featuring the Samsung LM301B diodes that many leading lights rely on to support all growth phases.
One reason this light does well is the aluminum reflector, which reduces light waste. Plus, the current model has a higher PPF than previous versions of the light, offering significantly more canopy penetration.
No BESTVA 2000w review would be complete without mentioning the fans, as they can generate noticeable noise. Still, that usually isn't an issue if you're using grow tents or aren't placing the lights in living areas.
Pros:
Up to 20 sq. ft. of coverage

Full spectrum light

Aluminum reflectors for increased brightness

Highly affordable
Cons:
Fans can create some noise
Verdict:
If you aren't opposed to the fan noise, the BESTVA 2000wgives you a lot of bang for your buck, particularly with the aluminum reflectors, limiting light loss to improve brightness.
Enjoyed this post? Pin it!