The Best 1000 Watt Grow Lights Available
When growing plants indoors, you need a good quality source of full spectrum light for them to flourish. Ignoring this will only mean reduced growth and a disappointing harvest. It is crucial you invest in a reliable grow light for the success of your indoor growing project. Quality is of the essence, especially the level of PAR your grow light produces. It's even more important than the watts produced. Here are some of the best 1000 watt grow lights to consider.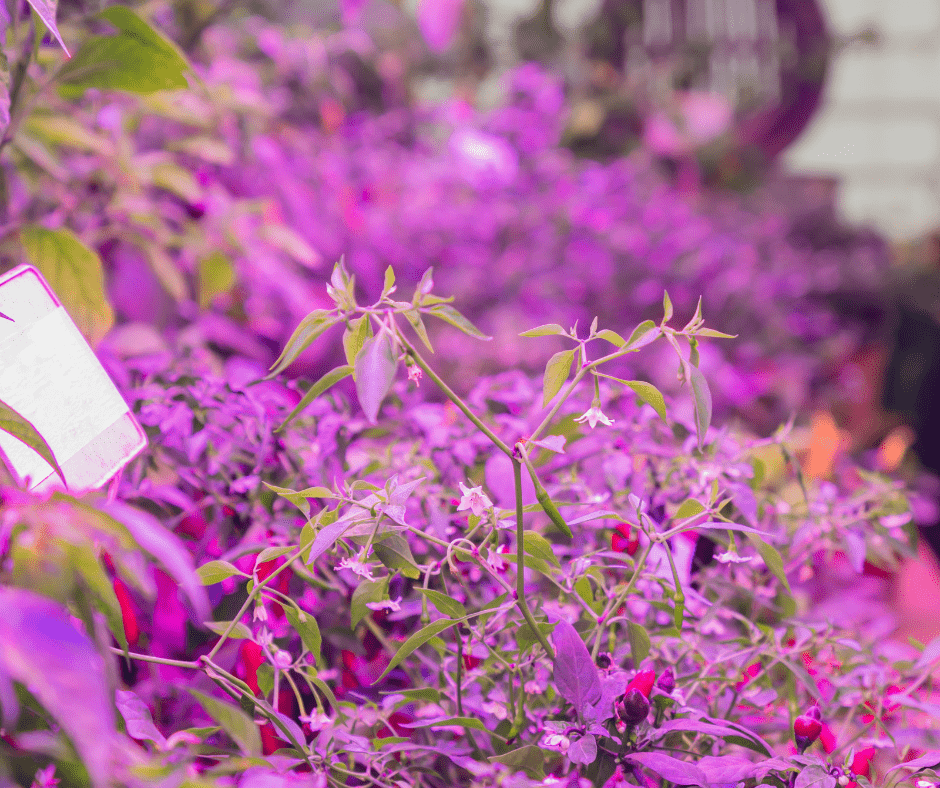 Kind K5 XL1000 LED Grow Light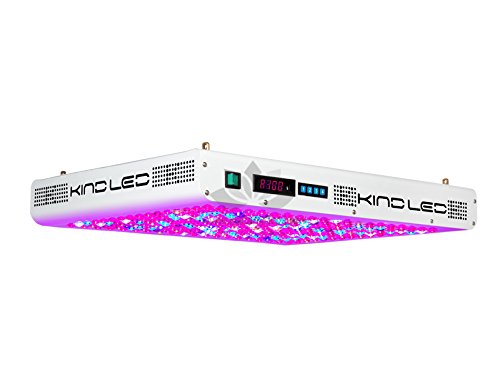 If you read my guide to the best LED grow lights for indoor plants, you'll see my top choice for the best 1000 watt LED grow light is the Kind K5 XL1000. The Kind LED grow light provides a huge footprint with a mix of 320 3 and 5-watt light-emitting diodes. This highly programmable grow light allows digital tuning of the spectrum so you can match it to the exact plant type and growth stage. The Secondary Optical Lenses individually focus and intensify the diode output which magnifies the PAR and increases canopy penetration. My only beef with KIND is they don't provide PAR data.  While it's not a perfect measurement, it's helpful to understand the true coverage of the LED grow kit in question.
PROS:
Runs quiet and cool
Extremely energy efficient
Sleek design allows it to sit higher above plants
Easy setup and programming
Convenient handheld remote
CONS:
The power cord is short (only 6ft)
No PAR data for comparison purposes
VIPARSPECTRA 1200W LED Grow Light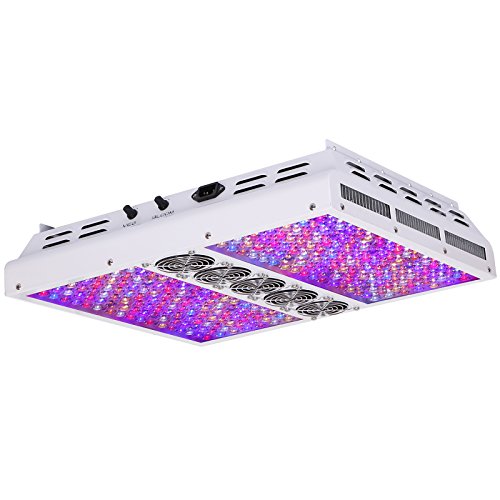 The next generation Viparspectra Dimmable 1200W grow light provides a full spectrum layout and an aluminum cooling heatsink making it ideal for all indoor flowers and vegetables at all stages of growth. When using this light, you will see an increase in yield with bigger, dense flowers completely coated in resin. The grow LED lights are engineered to maintain the balance with high PAR/Lumen and with a suitable coverage. The lights are spread to minimize sun burning the plants or causing stunting in growth.
With its high-speed cooling fans and the revolutionary aluminum heat sink, the product is 70% cooler than the HID lights. The items weigh just 21.6 lbs at 19.2 by 19.2 by 3 inches in dimension. It can be used for all stages of plant growth with a maximum coverage at 24 inches at the height of 5 x 5 ft, and a core coverage of 24 inches at the height of 4×4 ft. It draws an average power of 524 watts from an input AC of 100-240 volts. The LEDs are angled at 90 degrees and have a lifespan of 100,000 hours.
The grow light is designed to give the plants all that they need from sunlight throughout their growth stages.
PROS:
Extremely bright
Doesn't need extra ballast
Can be controlled by a timer
includes two dimmer switches
Three-year warranty
30-day satisfaction guarantee
Works as well as a 1000 watt grow light yet consumes just 524 watts
CONS:
Only for indoor use since it is not waterproof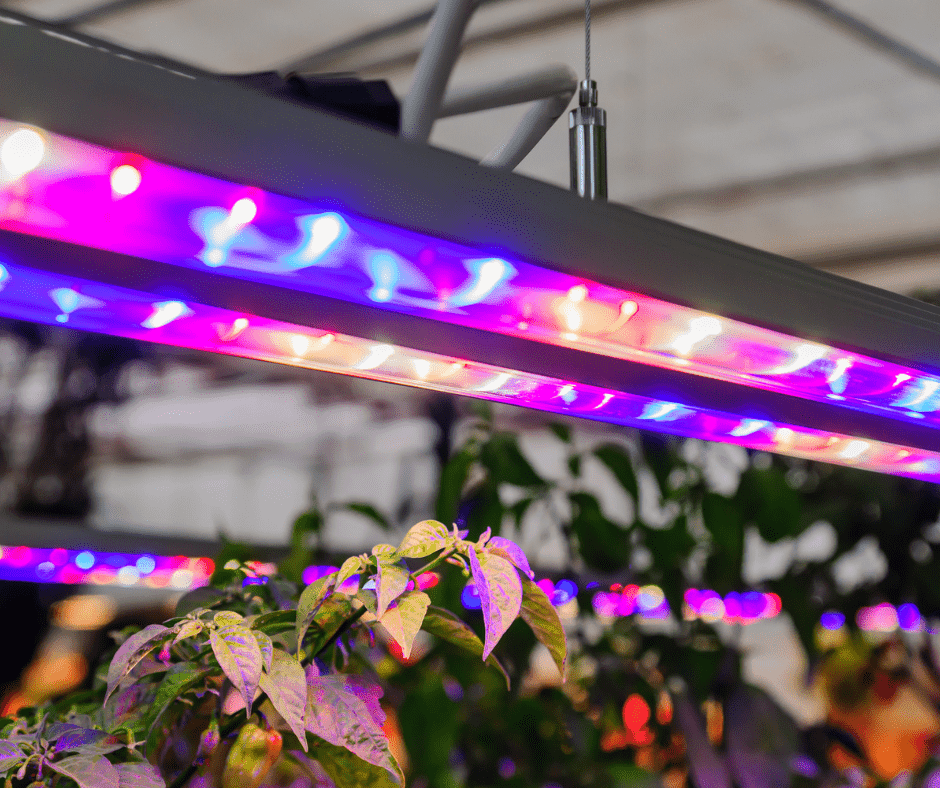 HIGROW Optical Lens LED Grow Light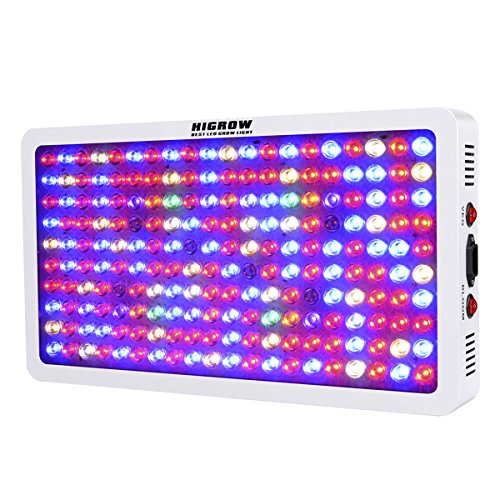 The G1000 is the next generation optical lens style from HIGROW. It provides a full spectrum 12-band layout. It also features an upgraded aluminum cooling heatsink making it ideal for all kinds of indoors growing and at all stages of growth. It generates red light (620-620nm and 650-660nm), orange (610-615nm), yellow (580-590nm), green (520-530nm), blue (430-440nm, 450-460nm, and 460-470nm), UV (380-400nm), IR (740-760nm), and white (2700-3000K, 4200-4500K).
The item measures 20.1 by 11.2 by 2.6 inches and weighs 13.6 lbs. It replaces a regular 1000 watt HPS yet only draws 400 watts. It contains 200 LEDs of 5 watts placed at 90 degrees taking it Ac power at 100-240V. The LED have a lifespan of 50,000 hours. The grow light has core coverage of 24 inches at the height of 4×3 ft, and maximum coverage at 24 inches at the height of 5 4 ft.
The product is equipped with three high-speed whisper quiet cooling fans to go with the upgraded aluminum heat sink keeping it very cool. The HIGROW has a veg/bloom selector switch for the two stages of plant growth.
PROS:
Has the power of a 1000 watt HPS/MH yet works at only 400 watts
Has a veg/bloom selector switch
Extreme cooling design
Three years warranty
30-day return guarantee
Very quiet fans
CONS:
Not waterproof so can only be used indoors
The IR lights appear dim
The optical lenses are not fixed hence a rustling noise when the item is shaken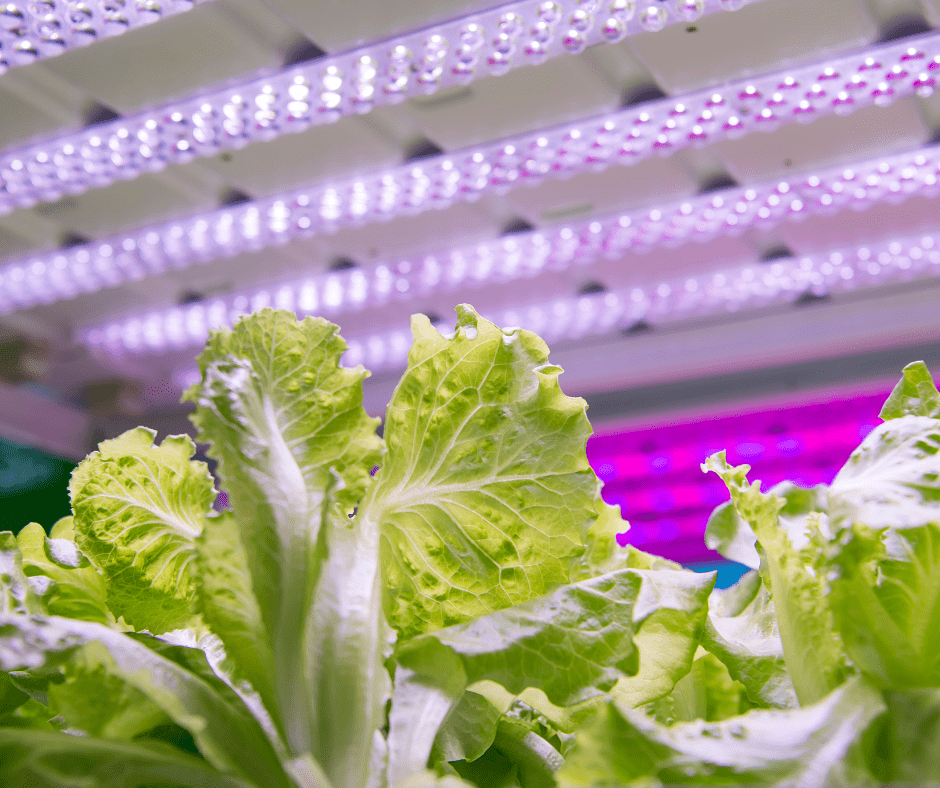 GoGrow V3 Master Grower LED Grow Lights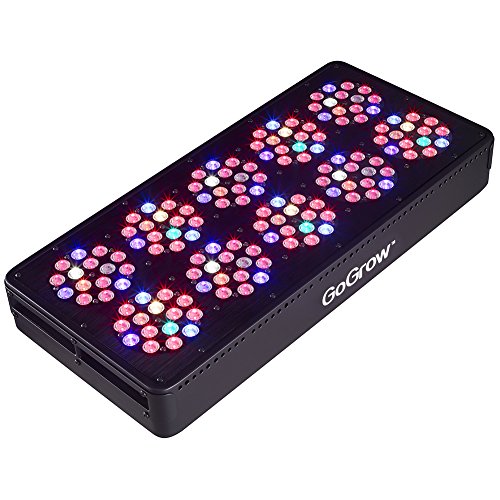 You will immediately recognize that this grow light has no reflector hood, no ballast, no ducting, doesn't need bulb replacement after each grow and that it does not need fans to maintain the growing temperature. When using this 1000 watt grow light, your plants will require less watering and less nutrient usage, therefore, saving you up to 50 % in electricity bill compared to the regular grow lights.
The product is researched and engineered for growing plants indoors, in grow tents and in greenhouses. With over 12 years of research and experience, this grow light is exactly what your plant requires to perform optimally. It features an extra red spectrum to help the plant flourish and produce dense buds. It is designed for cloning, flowering, seedling, and for the vegetative stages of plant growth.
What matters to the plants is the PAR, coverage, and penetration. Grow lights with higher wattage should not mislead you as they mostly produce high power low PAR. This product is designed to deliver the highest PAR at the lowest wattage. When your plants are exposed to high PAR, they are sure to conduct strong photosynthesis hence healthy plants.
The grow light is of a very high quality, and the manufacturer gives a 3-year warranty, and 30-day money back guarantee if you are not satisfied with its performance. The product is easy to install, just plug it in place and watch the plants grow healthy. It is designed for both the home growers and professional growers. The five pieces of LEDs that look dim should not worry you, that is how they are designed.
The GoGrow V Master has an output of 320 watts and works as well as 1000 watt HID grow lights. It uses an AC input of 100-240v at 50/60 Hz. The beam angle for the LEDs is 90 degrees and works at a temperature of -4 to +104 F. The item is installed at 8-40 inches and can run continuously for 12-18 hours a day. Its 90-degree dual optical lens provides a strong, even canopy penetration. Without a good lens, the LEDs are of no benefit since their light will not be focused as desired and required by the plants.
It is designed with each cluster being easily replaceable for an upgrade of warranty service without the need to replace the whole thing. The high power band LEDs ensures high PAR evenly across the 4×4 ft canopy. It has never been this easy to grow healthy plants indoors. The product is of high-quality parts for extended use, this backed by their 3-year warranty to show you how confident the manufacturer is with the product's performance and durability. If you are not satisfied with the performance, you have up to 30 days to return it for your money back.
PROS:
3-year warranty
30 days money back guarantee
Free shipping
CONS:
Has only one mode for the entire grow stages
Enjoyed this post? Pin it!