Spider Farmer SF-4000 LED Grow Light Review
When it comes to indoor grows, quantum boards are making waves. Today, you can find options that are as effective as HLG but at a much lower price. If you're looking for quantum board technology with a competitive price tag, the Spider Farmer SF-4000 LED grow light might be right up your alley.
But how does the performance of this Spider LED light hold up against the competition? Can it truly meet your indoor garden's needs? Do you sacrifice quality to get a lower price? If you are wondering how the Spider LED SF-4000 grow light measures up, here's what you need to know.
About Spider LED Lights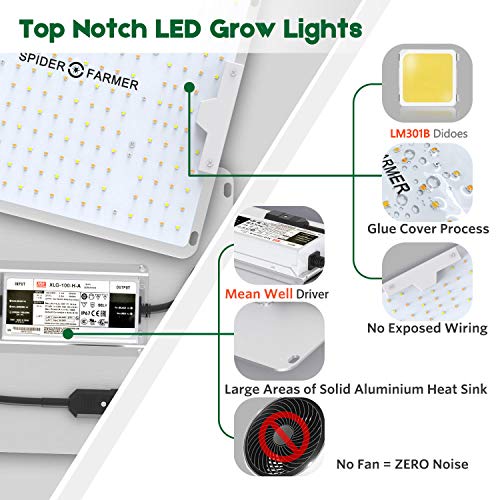 Founded in 2015, Spider Farmer has quickly become a player in the LED grow light segment. They embrace effective, reliable technologies, such as Samsung LM301B diodes and Mean Well drivers.
Overall, the company's products offer excellent quality at competitive prices. However, they may cost more than many beginning indoor gardeners would like to spend. This makes Spider LED lights a wise choice for those who want leading technology for their financial investment and aren't afraid to spend a bit more to get the quality they want.
Spider LED Light Pros & Cons
Every grow light has its fair share of pros and cons. Spider LED lights are no exception. As a line, the Spider Farmer SF series brings a lot to the table, and many consider the benefits to outweigh any potential drawbacks far.
As a brand, Spider Farmer embraces leading technology, including quantum boards. Plus, their designs are robust and whisper-quiet, making them durable and non-intrusive, even when placed in spaces you use frequently.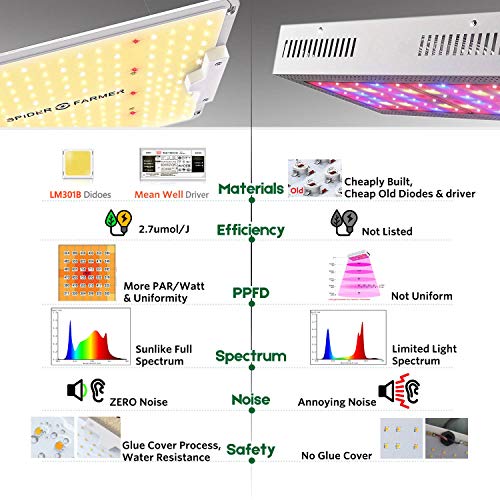 Additionally, the physical design of the Spider Farmer SF LED grow light line is comparably attractive to other options that are on the market. As with most grow lights, they look like what they are. However, since Spider Farmer's designs are slimmer, they look less like a giant metal box hanging over your plants. Plus, they are lighter weight than some competitors' models, making them easier to hang.
With that in mind, here's a look at the Spider Farmer LED grow light pros and cons:
Pros:
Energy efficient
Quiet operation
Full-spectrum light
Large coverage areas
Water-resistant
High PAR output
Slim design
Lightweight
Cons:
While cheaper than HLG grow lights, may cost more than some want to spend
A Chinese brand, which might not appeal to all consumers
Fan-free; could lead to a heat issue
Spider Farmer SF-4000 LED Grow Light Review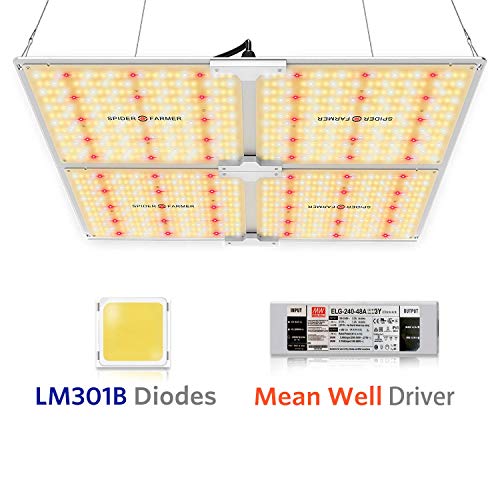 If you are looking for quantum board technology and have a large grow area to cover, the Spider Farmer SF-4000 LED grow light is a strong contender in the market segment. It accommodates a footprint of 6 feet by 6 feet during the vegetative phase and 5 feet by 5 feet during the flowering stage. In total, that's up to 36 square feet of coverage.
One of the Spider LED light's standout features is its efficiency. The energy consumption comes in at just 456 watts, making it affordable to operate.
When it comes to the light source, you'll find Samsung LM301B diodes, some of the leading grow light technology on the market. You get incredibly high light output and better canopy light penetration, improving yields. The diodes have a respectable lifespan as well, coming in at up to 50,000 hours (over 5 ½ years), outperforming many competitors.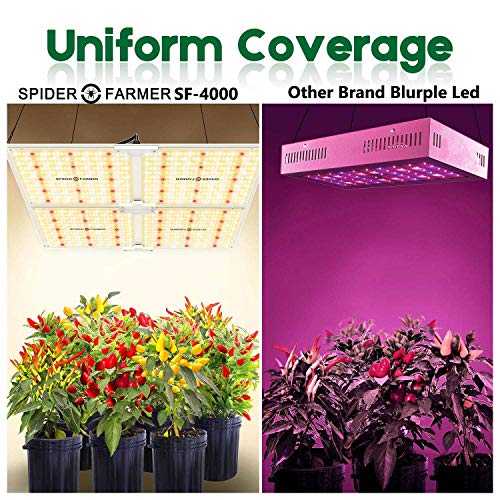 Thanks to a glue process, the chips board has a protective coating. This makes this Spider LED light water-resistant, something that many indoor gardeners value, especially if their grow space has high humidity. In fact, this light is designed to withstand humidity levels of up to 90 percent, making it ideal for grows that mimic tropical conditions.
The Spider Farmer SF-4000 also has a unique benefit; it's practically silent. The design doesn't feature any fans for cooling, relying instead on an aluminum heat sink to manage temps. Since there isn't a fan moving, it doesn't produce any noise. That also means you don't have to worry about a fan failing.
However, while most users agree that heat isn't an issue, you do have to make sure the light is at the right distance away from your plants. It can get warm enough to scorch leaves when positioned too close to your plant's foliage, so follow the manufacturer's recommendations regarding hanging height to ensure that it doesn't happen.
Additionally, since there aren't any fans in the design, if the fixture does heat up, you'll have to provide your own cooling solution. In many cases, a simple oscillating fan could be sufficient.
Finally, it is important to note that the "4000" in the product's name doesn't mean its equivalent to 4000 watts. While Spider Farmer doesn't make any equivalency claims when it comes to wattage, some people assume that's what the "4000" means. That simply isn't the case.
Other Spider Farmer LED Grow Light Products
The Spider Farmer SF-4000 is the largest Spider LED light in the SF line. If you don't need as much coverage, then a smaller variant may be a better fit.
For example, the Spider Farmer SF-1000 and Spider Farmer SF-2000 offer the same core technology in more compact form factors. Their coverage areas are still substantial for the size of the light but are better options for smaller indoor gardens. Plus, they are less expensive. The price tag alone could make these Spider LED lights a solid choice for those who want exceptional quality without some of the cost.
If you only have a couple of plants, such as a group of herbs, succulents, or orchids, then you may even be able to go with the Spider Farmer SF-600. It supports a growing area of up to 2 feet by 2 feet, making it a reliable option for indoor plants that just need a little boost.
Ultimately, the Spider Farmer SF-4000 grow light, and the others in the series, offer leading technology at a price that's more affordable than certain competitors. You get full-spectrum light in an efficient design, all with quiet operation. Overall, if you're looking for quantum board LED grow lights, Spider LED lights are hard to beat.
Spider Farmer SF-4000 LED Grow Light Review
Build Quality

Coverage

Value for Money

Cooling System

Energy Efficiency
Summary
Spider Farmer SF-4000 LED Grow Light is a professional quality grow light with plenty of features. In my opinion, it's worth the higher price tag than some of its competitors.
Enjoyed this post? Pin it!