The Best Hydroponic Vertical Farming Systems for Sale on Amazon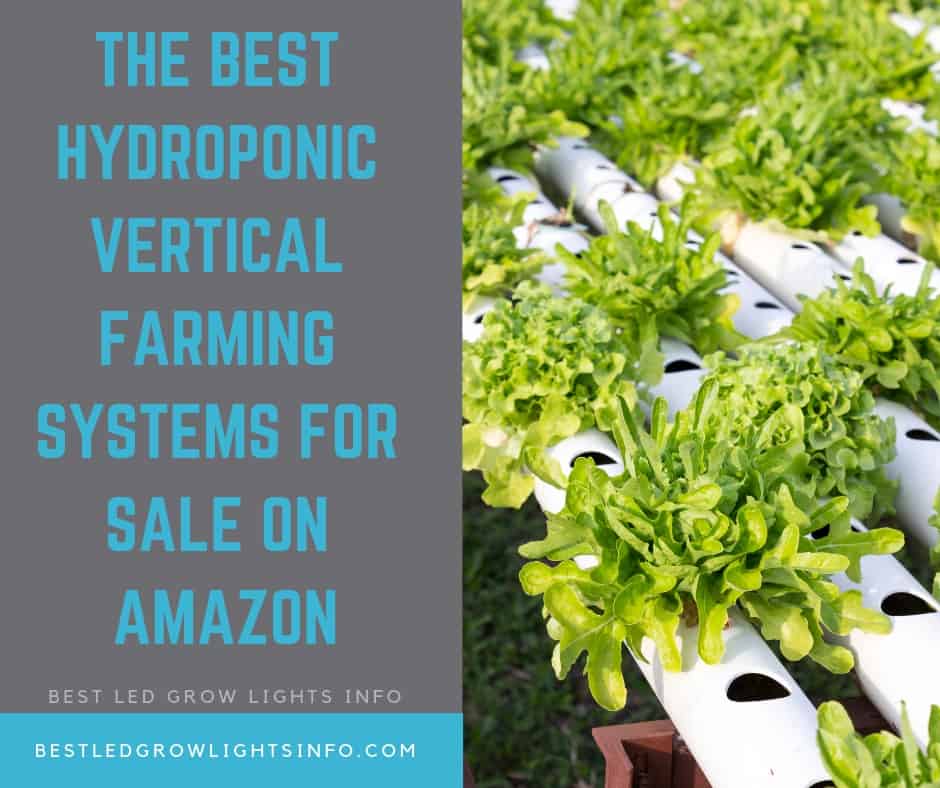 Vertical gardening systems can be excellent space-savers, ideal for growers with limited square footage or those who want to make the most of their space. However, you do need a high-quality hydroponic vertical farming system if you are going to get a substantial yield. Figuring out which one you should buy a challenge. Luckily, Amazon has some great options.
What is a Hydroponic Vertical Farming System?
A hydroponic vertical farming system is an approach to gardening that saves space and doesn't rely on soil. With the right vertical hydroponic garden, you can participate in vertical farming at home without sacrificing too much square footage.
A vertical hydroponic garden allows plants to be stacked in tiers, giving you a ton of growing real estate without sacrificing floor space. Usually, they feature several planting areas on a rack, essentially creating layers of usable gardening real estate without taking up much room on the floor.
Plus, these gardening solutions don't rely on messy soil. Instead, all they use is water and a nutrient solution for growing plants. This can make maintenance easier and eliminate some cleanup, as you don't have to worry about dirt.
Now, it is important to note that these systems are different than vertical aeroponics gardens. Instead of water, aeroponics gardens grow plants in the air.
The Five Best Hydroponic Vertical Farming Systems for Sale on Amazon
With a ton of options on the market today, separating the great vertical gardening systems from the less-than-stellar can be a time-consuming process. Luckily, there are plenty of leading options available on Amazon, which is incredibly convenient.
Whether you are a proponent of vertical hydroponics or are just starting out with this form of gardening, here are some vertical farming systems worth exploring.
1. OPCOM Vertical Hydroponic Grow Wall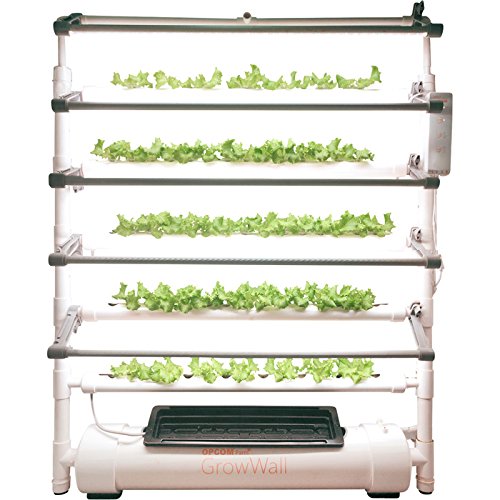 Fans of vertical agriculture appreciate having a lot of space. The OPCOM Vertical Hydroponic Grow Wall features a five-tier, 75 grow site design, giving you ample room for a variety of plants.
Along with the growing space, you also get water circulation and lighting options that can operate on auto mode, ensuring that your plants get the right mix of light and nutrients. Full spectrum LED grow lights are included with the grow wall, so you don't have to worry about buying separate lights to help your plants thrive.
Plus, you'll save a ton of water compared to traditional gardening methods. This hydroponic grow wall uses around 90 percent less water than the standard approach to managing a garden, making it very efficient.
While this system does give you everything you need to get started with vertical hydroponic gardening, it does come with a fairly high price tag. That may make it a less than ideal option for beginners or anyone who needs to stick to a tight budget.
Additionally, while the unit comes with instructions for setting up the hydroponic grow wall, they are a little complex. Just be prepared to dedicate some time so you can get the system up and running.
Pros:
75 grow sites
Integrated LED grow lights with auto mode
Uses 90 percent less water than traditional gardening
Cons:
High cost
Complicated assembly
2. DreamJoy Hydroponic Grow Kit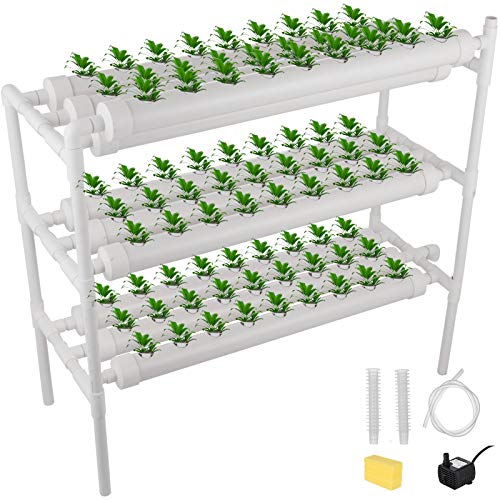 In the world of vertical farming technology, the DreamJoy Hydroponic Grow Kit is closer to a raised bed than a vertical wall. However, some will find the design incredibly convenient as all of your plants are easily in reach. Plus, you can store items beneath or choose an option with multiple tiers, making it more vertical.
The DreamJoy Hydroponic Grow Kit also comes in several sizes. The smallest option features four rows and gives you 36 grow sites. The largest, holding an astounding 96 grow sites, has three tiers with three rows on each level.
Now, this does mean that some of the configurations do take up some floor space, but most would say the size is still reasonable. Plus, the assembly is relatively straightforward, so most gardens can get the kit put together in a short amount of time.
This hydroponic garden is also pretty affordable and is well within the financial reach of most indoor gardeners. It does not come with grow lights though, so you will need to factor that in if you don't have a well-lit space.
Pros:
Options available with 36, 54, 72, and 96 grow sites
Fast assembly
Ebb and flow and circulating options
Affordable
Cons:
Larger footprint, depending on the selected size
No grow lights
3. INTBUYING Wall-Mounted Hydroponic Grow Kit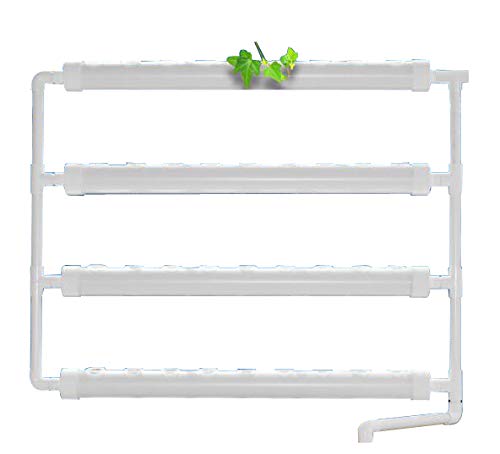 If you prefer a wall-mounted option, here is a vertical hydroponic garden solution worth checking out. The INTBUYING Wall-Mounted Hydroponic Grow Kit has six tiers and 54 plant sites. Plus, the design is very slim, so you barely need any room to use it.
You also get two water settings with this vertical hydroponic garden. The pump can support ebb and flow as well as the recirculating deep water culture approach, giving you the opportunity to choose which is best for your plants.
Assembly is also pretty simple, so you won't spend a ton of time putting it together. Since it is wall-mounted, you do need to find a suitable location for this hydroponic vertical farming system, preferably where you can connect to a wall stud or other strong point.
The included sponges can also help you support a full growing cycle, starting from sprouting seeds all the way to growing full plants. However, you will need to provide your own tank and purchase grow lights separately (if you do not have a suitable amount of light where you decide to mount this grow kit), as those are not included.
Pros:
Wall-mounted
Slim design
54 plant sites
Quick assembly
4. Vertical NFT Hydroponics Growing System by SavvyGrow
If you prefer to purchase a full hydroponic kit, the Vertical NFT Hydroponics Growing System is a strong contender. Along with the 24 grow sites on three tiers, this kit also comes with six LED grow lights, a timer, a pump, and a water reservoir, making it an all-in-one solution.
The setup process is also incredibly simple, though there are a lot of connection points and you need to make sure they are all tight to prevent leaks. Each tier is also fairly tall, giving your plants plenty of room to grow, and the pump and lights use very little energy, making it a cost-effective system.
While some may be discouraged by only getting 24 grow sites, the system is designed to provide plants with the space they need to thrive. When the holes are too close together, your plants can get cramped, which isn't ideal for a good yield.
Since the system is closer to an all-in-one, beginners, in particular, may enjoy this vertical hydroponic system. You almost have everything you need to get started all in one box.
Pros:
Comes with grow lights and reservoir
Low energy use
Plenty of space between plants
Cons:
A large number of connection points, increasing your chances of having a leak
5. WePlant Hydroponics Nft System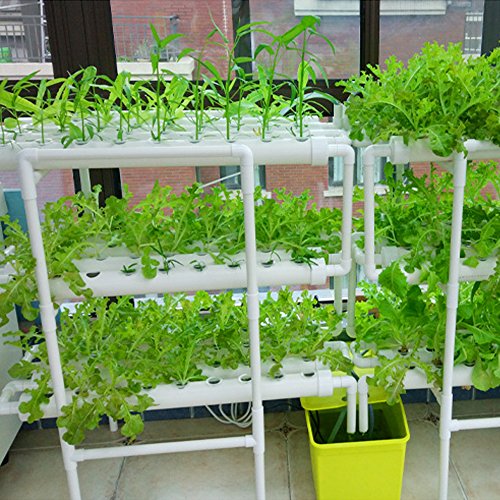 For the indoor gardener who wants a ton of grow sites, you'll be happy to know the WePlant Hydroponics Nft System comes with a whopping 108 holes in its three-tier design. Each level features four pipes, so this option takes up a bit more space than some of the others. But, if you want to have a large garden, it is still very space efficient.
For its size, this vertical hydroponic farming system is also pretty affordable. However, it does not come with grow lights or a reservoir, so those are additional costs you will need to shoulder. The frame does make adding lights a breeze, so you won't have to struggle to get them where you want. You also get 108 planting baskets and 108 planting sponges and the pump, so you are otherwise ready to go.
This vertical hydroponic garden is also easy to assemble, so you won't need to spend a lot of time getting set up. Plus, its larger footprint design and strong connections make it feel very sturdy.
However, you aren't restricted to just the 108 grow site option. The company also makes two smaller systems, including one with 54 plant sites and another with 72, though they still have larger footprints that some offered by competitors.
Pros:
108 plant sites
Affordable
Strong connections, sturdy design
Multiple size options
Cons:
No reservoir or grow lights
A bit larger than some other vertical farming solutions
Enjoyed this post? Pin it!