King Plus 2000W LED Grow Light Review
The King Plus 2000W LED grow light is the top of the line of King's Plus LED range and is one of my top 10 best LED grow lights of 2017.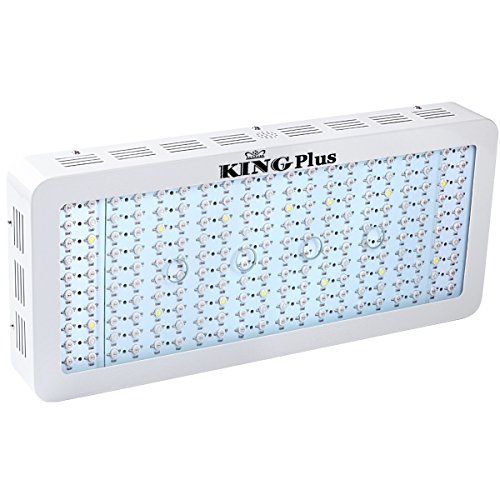 The King Plus 2000W LED Grow Light with double chips is one of the best indoor grow lights on the market. It is particularly useful for gardeners employing hydroponic techniques, though anyone can reap the benefits of providing sufficient plant lighting during the critical growth and flowering stages – regardless of the ambient conditions.
King Plus 2000W LED Grow Light Features
Full Spectrum LED Grow Lights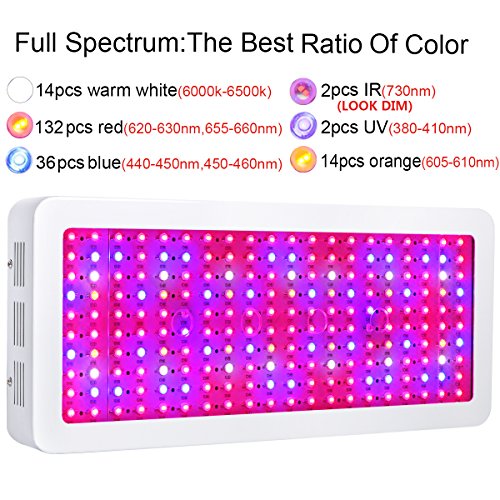 The King 2000W is a full-spectrum grow light that emits multiple bands of light in the frequency range of 410 to 730 nanometres. The ultra-violet (UV) to infrared (IR) range includes red, orange, blue, white, and IR radiation, which offer quality photosynthetic active radiation (PAR) that promotes seed germination, stem elongation, photosynthesis, better growth, and increased yields. The ultra-violet rays also help kill bacteria and reduce the susceptibility of the plants to disease.
King LED Technology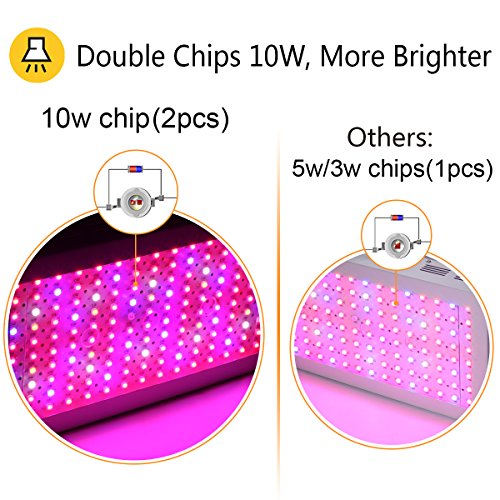 Featuring the latest technology, the 10W LED Double Chips deliver more brightness and efficiency compared to the 3W and 5W LEDs. The 200 pieces offer low power consumption at only 375W. With Epistar LED, you can expect low energy use, low heat emission, high brightness, and long lifespan.
Superior Cooling System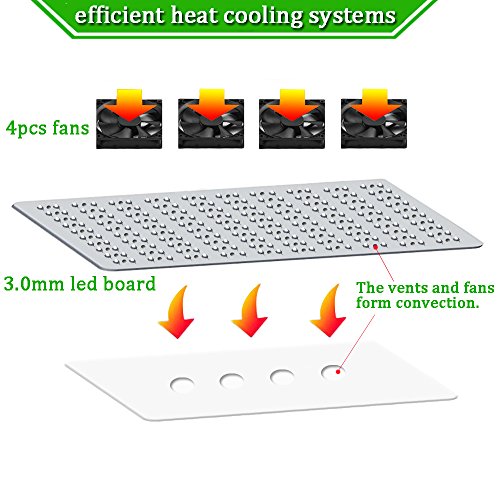 The panel comprises a thickened 3mm LED board with holes and glass for superior heat dissipation; four fans and vents that form convection and prolong the lifespan of the lights; and resistance for each LED so the lights work independently.
Suitable for all stages of plant growth
Measuring 20.7 by 8.5 inches, the King Plus LED can cover an area of about 4.5 by 8 feet. However, the lighting area varies depending on the distance the unit is placed above the plants (ideally 2 to 3.5ft), the type of plants, and the environment. The King LED grow light can be used in flower exhibitions, greenhouse cultivation, pot culture, house garden, pipeline cultivation, water-soluble breeding, sowing, and many other applications.
Durability
The LEDs are designed to offer more than 50,000 hours of service in a suitable work environment.
Make sure it does not get wet.
Works in temperatures between -20 and 40˚Celsius, and Relative Humidity of 45 – 90%.
Affordability, Availability and Customer Service
The company behind King Plus LED grow lights has a team of professional researchers, designers, and other skilled personnel who help to develop the products in their own factory. With everything in-house, you are assured of the best prices, outstanding customer service with replies within 24 hours, a 3-year warranty, free parts and shipping within 180 days of purchase, and returns with money back within 30 days.
Product Specifications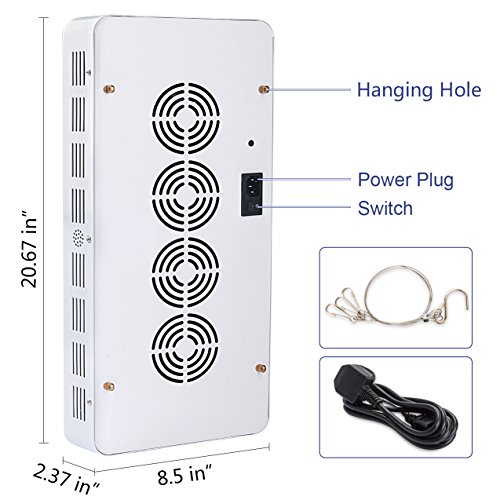 Dimensions: 20.67  x 8.5 x 2.37 Inches
Voltage: 85v – 265v
Frequency: 50 – 60Hz
Multiple Bands of Light: 410nm, 430-440nm, 450-475nm, 620-630nm, 650-670nm, White, IR (730nm)
Output: 2,000W using 200 pieces @10W
Power Usage: 375W
Coverage Area: Approximately 4.5 x 8 ft (at a distance of 2 – 3.5 feet above plants)
LED Chip: Epistar LEDS
Lifespan: >50,000 hours
Modular Power Cord: Available in US, EU, UK, JP, AU
Working Environment: -20 to 40˚C, 45 – 90% RH
Weight (pounds): 9.7 (Shipping Weight 12.8)
Warranty: 3 years
Package Content: 1pcs King Plus 2,000W LED grow light, 1pcs free power cord, 1pcs free hanging hook
King Plus 2000W LED Grow Light Pros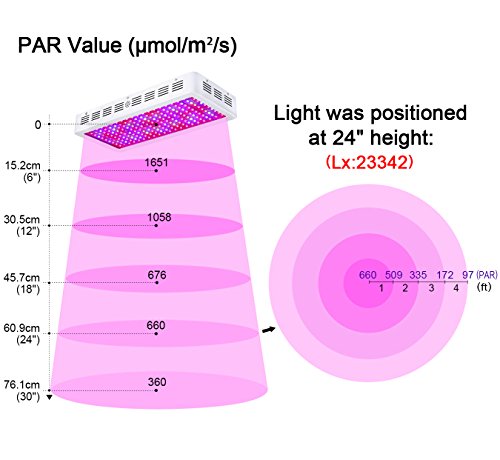 Provides all lighting requirements for most plants and indoor growing situations
Adjustable lighting area
Easy installation
Low heat and energy consumption
Years of service backed by 3-year warranty
Availability of parts
King Plus 2000W LED Grow Light Cons
 The cooling system is noisier than on higher quality lights
Final Verdict
As one of the top LED grow lights, the King Plus 2000W can be expected to outperform and outlast traditional fluorescent or HID lighting. Though the initial cost is greater, the return on investment is worth the price owing to low energy consumption, less heat emission, and longer life span. The King LED grow light will save you money in the long-term.
King Plus 2000W LED Grow Light Review
Build Quality

Coverage

Value for Money

Cooling System

Energy Effieciency
Summary
If you don't mind a bit of noise the King Plus lights offer a great compromise between quality and value.
Enjoyed this post? Pin it!