Hyphotonflux HPF4000 Review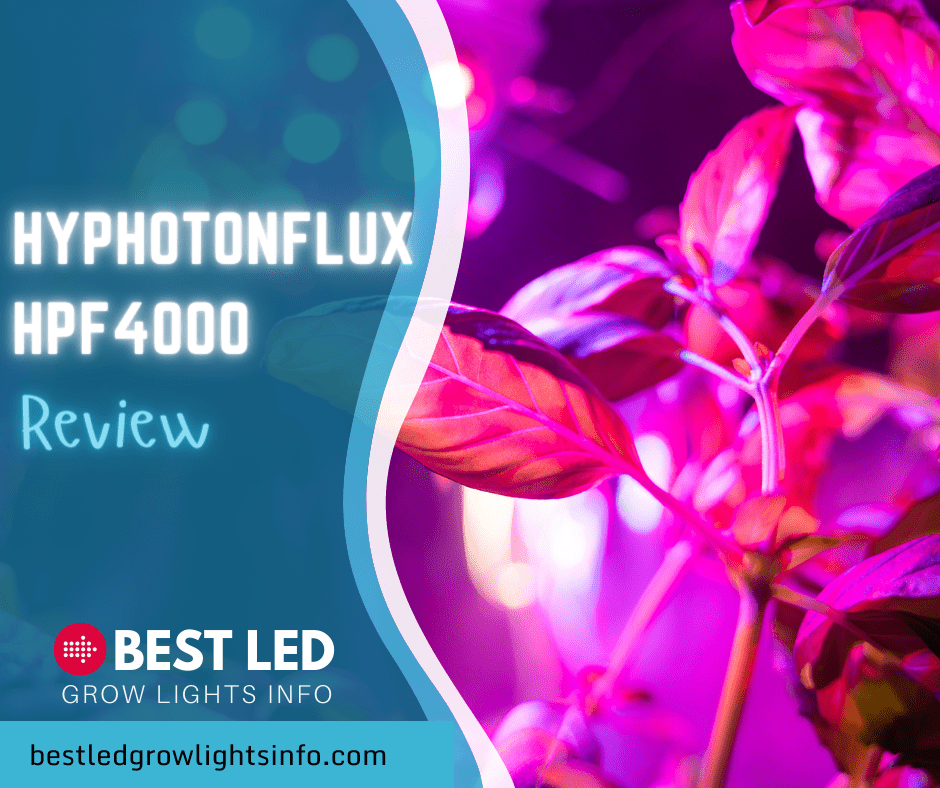 When you're looking for an indoor LED grow light, you typically want a slim form-factor, quiet operation, and full spectrum. Having a commercial-quality fixture is usually seen as a bonus, particularly if you're trying to keep the price reasonable. If that's what you're after, then Hyphotonflux HPF4000 grow lights might give you everything you're after and a bit more.
But how does the Hyphotonflux HPF4000 LED grow light stack up against the competition? Can it genuinely meet the needs of avid indoor gardeners? And does the mid-level price point bring enough to the table to justify the cost? If you're trying to figure out if the Hyphotonflux HPF4000 is right for you, here's what you need to know.
About Hyphotonflux LED Lights
A relatively new company, the Hyphotonflux brand launched in 2019. However, it's a new offering from a manufacturer with 11 years of experience in the plant lighting industry, so there is expertise backing Hyphotonflux.
The company aims to make commercial-grade LED grow lights at prices that people can afford. Generally, Hyphotonflux positions its products in the middle, charging more than you see with many starter lights but staying below similar offerings from companies with long-standing reputations.
When it comes to parts sourcing, Hyphotonflux LED grow lights don't cut corners. You'll find components from industry leaders like MeanWell, Osram, and Samsung; the exact parts you'll see in LED grow lights with significantly higher price tags.
While most of what Hyphotonflux offers may be a bit more than genuine beginners want to spend, the cost is competitive for indoor gardeners with experience looking for some bells and whistles. That's particularly true when you look at the technology involved.
Hyphotonflux LED Light Pros and Cons
Every grow light on the market has pros and cons, including those made by Hyphotonflux. As part of my Hyphotonflux HPF4000 review, I want to dig into the areas where this brand genuinely shines but also touch on points that are potential drawbacks. However, overall, the pros dramatically outweigh the cons here.
When it comes to the benefits, as a brand, Hyphotonflux focuses on quality. It's all about bringing in the latest, greatest components to create a commercial-quality light at a reasonable price. Plus, Hyphotonflux embraces materials that help eliminate the need for noisy fans with many designs, an approach that works well for indoor gardeners.
Another bonus is the ability to dim and daisy chain many Hyphotonflux grow lights. It lets you create your ideal grow space and properly control your lighting, potentially with just a single 0-10V controller. Considering that the daisy chain capabilities can potentially support dozens of connected lights, that's a bright spot you can't ignore.
When it comes to drawbacks, many Hyphotonflux LED grow lights are industrial looking. While that's not a big deal if you use tents, it could make the brand a less appealing option if you're growing in living areas.
In some cases, the mid-level price point may be more than beginners want to spend. While that's not a drawback in my book, as the lights have great technology at competitive prices, it does mean Hyphotonflux might not be the best option if you're just starting out.
Pros:
Full-spectrum light
Top-tier components
Energy efficient
Quiet operation
Slim design
Dimmable
Daisy chaining is an option
Compatible with most 0-10V controllers
Cons:
Mid-level price may be more than some want to spend
Made in China, which some shoppers may not like
Industrial look may not work for living areas
Does not come with 0-10V control for daisy chaining
Hyphotonflux HPF4000 Review
If you're looking for full-spectrum LED grow lights, then the Hyphotonflux HPF4000 could be right up your alley. You'll get a combination of Samsung LM301B and Osram deep red diodes, giving you excellent full-spectrum coverage. Couple that with the MeanWell driver, and you get PPF efficacy up to 2.7 μmol/J. The light also covers up to 16 square feet, which is solid for a light of this size.
Regarding the spectrum, you'll get a mix of warm white, white, and deep red, all with a higher red diode ratio. This supports an entire growth cycle. The light is dimmable, making it easy to adjust the lighting to meet the needs of plants at different growth stages.
Plus, the design is incredibly energy efficient. The actual power draw is just 480W, far below LED grow lights with comparable coverage and light quality that don't make use of high-efficiency diodes and advanced cooling designs.
Unlike some LED grow lights, this fanless design ensures that Hyphotonflux HPF4000 grow lights are quiet. For cooling, it relies on aluminum construction using wider than average light bars, improving heat dissipation. Plus, with the detachable cord, you can position the ballast outside the grow area, giving you another way to keep your plants at the right temperature without extra cooling devices.
Finally, you get daisy chain capabilities with the Hyphotonflux HPF4000 grow light. If you need more than 16 square feet of coverage, just connect another light. With a 0-10V controller, you can connect up to 80 lights. However, you do need to purchase a compatible 0-10V controller separately, so keep that in mind if you're considering this light.
While the Hyphotonflux HPF4000 is a slim LED grow light thanks to its lack of casing, some feel the look is a bit industrial. While that isn't an issue if you're using tents, it may make the light a less-than-ideal option if you use it in a living area.
Additionally, while I view this light as reasonably affordable considering the technology involved, no Hyphotonflux HPF4000 review is complete without talking about the price. This LED grow light costs more than many beginners may want to spend. However, it's incredibly competitive when you look at similar lights from other brands, so keep that in mind.
Other Hyphotonflux LED Grow Light Products
The Hyphotonflux HPF4000 is part of the company's HPF line. If you need less coverage, you could try the Hypthonflux HPF3000 instead. It features much of the same technology but uses less energy and comes in a slightly smaller design. However, it can still support up to 9 square feet of growing area, so it could be a reasonable option for some.
You could also explore the Hyphotonflux PRO line. Generally, these offer more coverage than you get with the HPF4000, making them a solid choice for large indoor gardens or bigger tents. With the Hyphotonflux Pro-480, you can support up to 25 square feet of growing space, depending on the growth phase. The Hyphotonflux Pro-720 offers similar coverage with improved PPFD.
Finally, with the Hypthonflux Smart-670 LED grow light, you can also use the driver box to control each of the four different kinds of light, giving you complete freedom of choice in a full-spectrum, energy-efficient design. Overall, you can effectively create 14 lighting conditions, which is impressive.
Ultimately, if you're looking for a commercial-grade option, the Hypthonflux HPF4000 grow light is a solid choice. However, you really can't go wrong with any of the other product options from the company. In the end, you'll always get full-spectrum light and many convenient features, like dimming and daisy chaining, all without breaking the bank. If you're in the market for a great LED grow light, make sure you take a close look at Hyphotonflux, as the company is undoubtedly worth considering.
Hyphotonflux HPF4000 Review
Build Quality

Coverage

Value for Money

Cooling System

Energy Efficiency
Summary
If you're looking for a commercial-grade option, the Hypthonflux HPF4000 grow light is a solid choice. However, you really can't go wrong with any of the other product options from the company.
Enjoyed this post? Pin it!