Eco-Friendly Hemp Products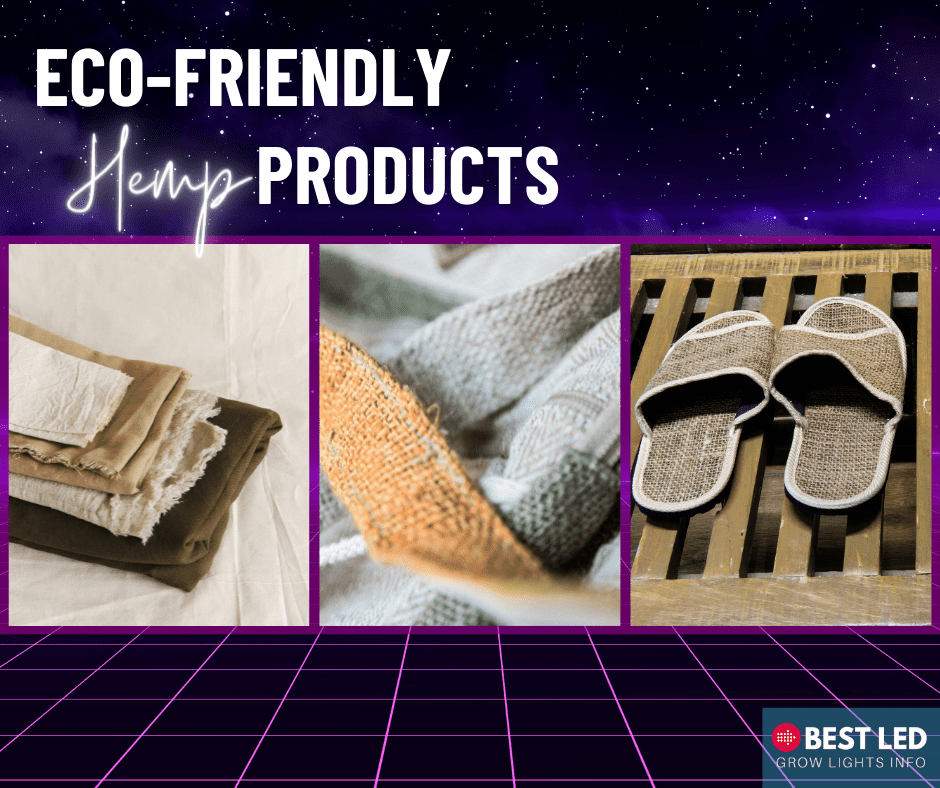 Whether you're looking for environmentally-friendly gifts for family and friends or, like me, consider yourself eco-conscious, eco-friendly hemp products are excellent options. Hemp's versatility is off-the-charts. Plus, it's durable and sustainable.
Since hemp products are relatively new on the market, in the grand scheme of things, I wanted to dive into the history of the hemp industry in the United States. Here's a look at the world of hemp and 11 eco-friendly hemp products worth checking out.
The History of Hemp Products
Hemp was once one of the leading crops in America thanks to its versatility. In fact, the first hemp planted in Jamestown, Virginia, was actually mandatory. The Declaration of Independence was drafted using hemp paper, and Henry Ford even used hemp fibers as part of a prototype car.
Essentially, hemp was a critical part of the industrial, agricultural landscape and was widely used for paper and fabric. However, the Marihuana Tax Act started the process of making cultivating hemp illegal, and it was formally banned in 1970 through the Controlled Substances Act.
However, during the 21st century, hemp became a legal crop once more in the United States, and the industry continues to grow. If you're wondering, "What can hemp be used for?" the answer is "a lot." There are so many different uses for hemp that it often leaves my head spinning.
Hemp's versatility allows it to make its way into clothing, health foods, plastic composites, and building materials. Hemp products for the skin – primarily hemp lotion products – are also incredibly popular. There is a wide array of hemp facial products and hemp body products. Hemp wood products include flooring, furnishings, décor, and much more.
If you're asking, "How many products can be made from hemp?" estimates vary. Some say that there are more than 25,000 product uses for hemp, though whether that figure is accurate is sometimes debated.
Regardless, versatility isn't the only benefit of hemp. Hemp is also eco-friendly. It doesn't require much water, is biodegradable, and improves soil condition. As a result, environmentally-conscious people like me adore hemp products.
Eco-Friendly Hemp Products
The Green Field Paper-Hemp Heritage Mini Reamis an eco-friendly alternative to the traditional printer or copier paper. It's archival quality and inkjet and laser printable compatible. Plus, it's one of the sustainable hemp products that also features post-consumer pulp, which is essentially recycled paper material. The paper also has a smooth, luxurious feel, elevating any printing project.
Hemp fabric products are popular for many reasons, offering exceptional softness and absorption. With the Anact Hemp Bath Towel, you get a combination of organic cotton and hemp, making it absorbent and quick drying. Another benefit is that the production is carbon-neutral, making this naturally-hued towel a "greener" choice. This bath towel is also on the larger side without going too far, making it easier to dry off, no matter your size.
The Core Hemp Fanny Pack is one of the products made of hemp that makes being out and about easier. It features 100 percent organic hemp fibers and is entirely hand-made. Plus, it keeps critical items accessible without the inconvenience of carrying a traditional purse or bag. The neutral color allows it to go with nearly any outfit, and the adjustable belt lets it comfortably fit up to a 40-inch waist. There's also enough room to carry a wallet, phone, and a bit more.
Chalk Mountain Hemp Seed Oil Furniture Sealer lets you beautify and protect your furnishings. The product is all-natural and has a light citrusy scent, making it pleasant to use. The drying time is around 48 to 72 hours, but since it's indoor-safe, you don't have to worry about dangerous fumes during that time. It is suitable for raw or treated wood and works on painted wood surfaces. Plus, a little goes a long way, so one container lasts.
Edible natural hemp products often boast a range of benefits. With Manitoba Harvest Organic Hemp Hearts, you get plant protein, omega 3s and 6s, iron, and more. Hemp hearts have a rich, nutty flavor that's incredibly versatile. Whether you want to add them to smoothies, sprinkle them over salads, or mix them into oatmeal, hemp hearts add flavor while boosting the nutritional value of your meal.
Kolo Nature Natural Hemp Sponges are an excellent alternative to their disposable counterparts. These hemp-made products are perfect for scrubbing without causing scratches. Plus, they don't absorb odors and are easy to keep clean. On average, these sponges last five to six months, too. Finally, once the sponge reaches its end of life, it's biodegradable, making it far more eco-friendly than traditional sponges.
One of the cool hemp products for people looking to cut down on daily trash, the Pinyon Reusable Cone Coffee Filter is a must. It features a combination of hemp and organic cotton, allowing it to last through hundreds of uses. These coffee filters are also affordable, as one costs far less than buying enough disposable filters to cover the same amount of time in many cases. Additionally, they're better at letting the natural oils through while keeping bitter sediment out, resulting in a better cup of coffee.
With the Pinyon Cloth Reusable Tea Bag and Bulk Spice Bag, you have another one of the products made with hemp and organic cotton. It's an excellent way to make loose-leaf tea without using disposable tea bags or risking a tea ball coming open during brewing. It can also work well for simmering seasonings in soups. Plus, it's an attractive way to store bulk spices.
The Pinyon Cloth Reusable Nut Milk Bag and Cold Brew Coffee Filter is an excellent option for products made from hemp and organic cotton that can support a more self-sufficient lifestyle. This strainer-style bag works for cold-pressed nut milks and cold brew coffee, and it's more durable and eco-friendlier than nylon alternatives. Typically, it can last through hundreds of uses before you need a replacement, making it more affordable than disposable options. As a bonus, you can also use this bag to store bulk dry foods, making it more versatile.
In the world of hemp clothing products, the ONNO Women's Hemp T-Shirt is an excellent choice. Featuring hemp and organic cotton, it's comfortable and breathable. Plus, it's cut to fit women well, making it attractive on its own or great for layering. Multiple colours are available, allowing you to choose a hue that fits your style.
For men's t-shirts made of hemp, the ONNO Men's Hemp T-Shirt is a comfortable, breathable option. Along with hemp, this t-shirt features organic cotton, making it soft and allowing you to move around easily. It's available in a range of colors, so there's a hue for essentially everyone. It also stands up to wear and regular washings, ensuring it will last.
Enjoyed this post? Pin it!