Hydroplanet 60x60x80 Mylar Hydroponic Grow Tent Review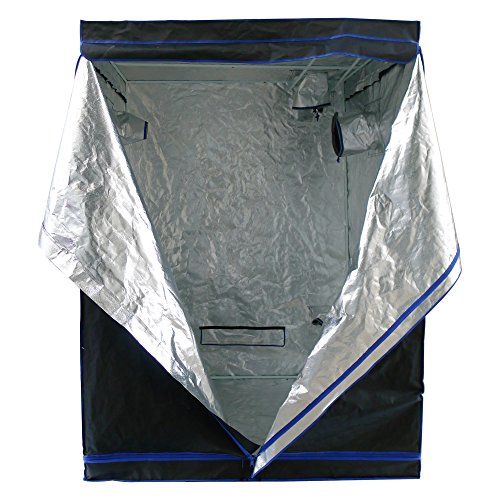 Hydroplanet produces a range of budget grow tents available for hydroponics and indoor gardening. In this article I review the 60x60x80 grow tent however my thoughts apply to the entire Hyroplanet range of products.
Hydroplanent Mylar Hydroponic Grow Tent Review
The Hydroplanet Mylar Hydroponic Grow Tent features a 100% Reflective Mylar interior. The system is engineered in a manner that allows maximum light and heat control inside the system.
The interior panels are made from the reflective lining and are quite suitable for growing a range of vegetables, fruits, and herbs throughout the year.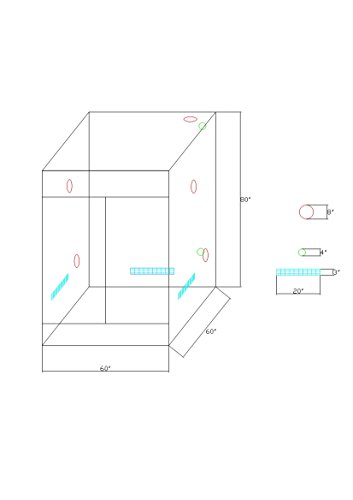 The Hydroplanet grow tent is not only cheap but also is a sturdy product that is meant to last for years.
Assembling the product and growing plants of various types is facilitated with its unique design. It is a good looking design that makes it an excellent choice for using inside your house.
The product is backed by a 2-year warranty, and the company offers comprehensive guides to help customers grow their favorite veggies or fruits in the recommended manner.
Features of Hydroplanet 60x60x80 Mylar Hydroponic Grow Tent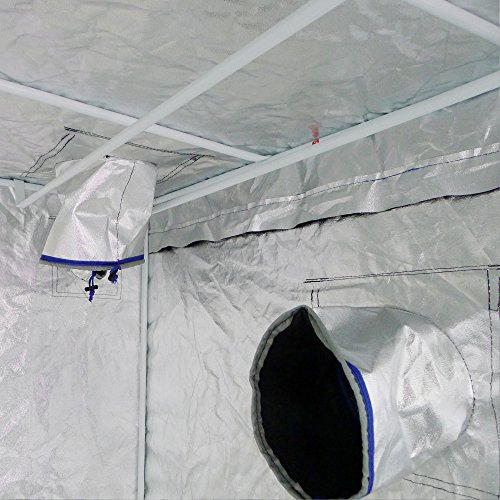 The functionalities and features that this grow tent comes with include the following:
Can be modified as per the requirement of the grower. For example, it can be arranged in 7×7 veg print and 5×5-flower print by using 0.35 amp clip fans
Quick and Easy Assembling
Heavy duty tubes allowing hanging of heavy equipment like grow lights and fans
Measures 60"x 60"x 80" size and weighs only 40 pounds
100% reflective tear proof Mylar
Washable material both inside and out
Two years comprehensive warranty and support
Advantages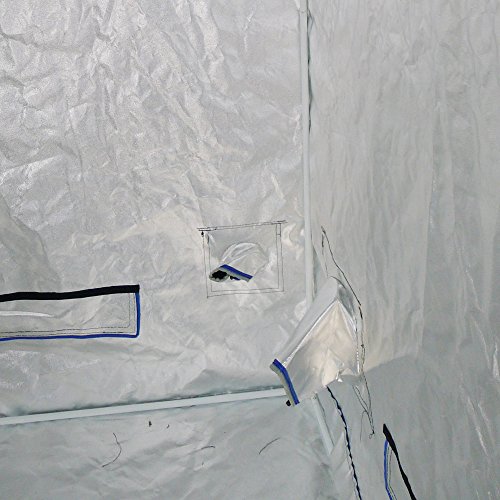 Cheap and sturdy tent with thick and compact lighting
Can be customized and easily modified using 0.35 amp clip fans
Besides rearrangement as per the choice of the grower, walls can be used for flowering as well
Single piece design with attached doors where one needs to only cut at the top and the bottom of this tent
It is fitted with metal crossbars which can support decent sized lights hung from the top without any stress on the crossbars.
Only two medium-sized fans can help in blowing the leaves upward
The frames are made of stainless steel making it highly durable and strong
Considerable height allowing adequate plant heights
Pre-created space for both fans and lights at the top
Available in 5 different sizes, i.e. 48X24X60 inches, 48X48X80 inches, 60X31X80 inches, 60X60X80 inches, and 96X48X80 inches
Holds humidity in a much better manner
Sturdy materials that include a thick cloth and metal frame post
Can be assembled in merely 30 minutes
Affordable and good looking
Disadvantages
Inadequate details about assembling the entire tent properly
One may notice tiny light leaks here and there
The zipper could have been better as one needs to open and close the zippers or vent flaps carefully
Support beams at places can be difficult to fit
What can you expect?
As we are aware, hydroponic growing is gaining popularity for a number of reasons like the ease of growing your favorite fruits and vegetables at home.
The Hydroplanet Mylar Hydroponic Grow tent enables you to have complete control over the climate and the growing environment inside the tent. Depending on your requirements, you can adjust the growing conditions for your preferred plants.
Opening the zipper does need some effort as you need to open and close the tent carefully. However, once opened, the grow tent offers effortless access to the entire arrangement of foods grown within.
In case you are looking to grow 4 moderate sized plants in 3-gallon pots, there is substantial height to do this easily.
Moreover, the adequate height allows you to fix the fans, lights and other accessories properly. The space for these has already been crafted at the top of the tent.
Overall, the system offers a low cost and a low amp venting system that is highly customizable. Other things like installing a fan outside can help in attaining the correct room temperature inside the tent.
It is also possible to turn up the speed control, but it might make some noise that might be irritating.
Comparing it to other similar products
The Vivosun 60x60x80 grow tent is one alternative that people might prefer. A decent growing tent can help in growing a variety of plants too. To give you a better idea of Vivosun's quality, I reviewed the Vivosun 48x48x80 here.
Hydroplanet has designed the product in a manner that makes it a good addition to any environment or place in the house without damaging the aesthetics.
Urban Farmer 48x24x60 Reflective Mylar Hydroponic Grow Tent for Indoor Plant Growing is another option that one might think of considering. The product falls in the same price bracket and is available in 5 different size options.
However, when we compare both the products in terms of looks, Hydroplanet Mylar Hydroponic Grow Tent is much more attractive.
The verdict
If you are planning to start growing fruits and vegetables indoors by utilizing Hydroponics, then the Hydroplanet Mylar Hydroponic Grow Tent offers all kinds of functionalities needed.
The product is built using good quality materials and is highly customizable. Growers would also find it easy to install the product within a matter of minutes.
Utilizing the 100% Reflective Mylar Hydroponic Grow Tent technology, this product offers a complete control to the internal climate and environment. The other things that make this a good choice are the comprehensive 2-year warranty and competitive pricing.
Depending on the space you have or the number of plants you are planning to grow, you also have the option to select from 5 different sizes. Lastly, the only thing that needs attention and care is the zippers that need to be carefully opened and closed when operating.
Looking for more grow tent reviews? Check out my Grow Tent Buying Guide.
Hydroplanet 60x60x80 Mylar Hydroponic Grow Tent Review
Build Quality

Value for Money

Ease of Assembly

Extra Features
Summary
The product is built using good quality materials and is highly customizable. Growers would also find it easy to install the product within a matter of minutes. A solid option for the price in a variety of sizes.
Enjoyed this post? Pin it!