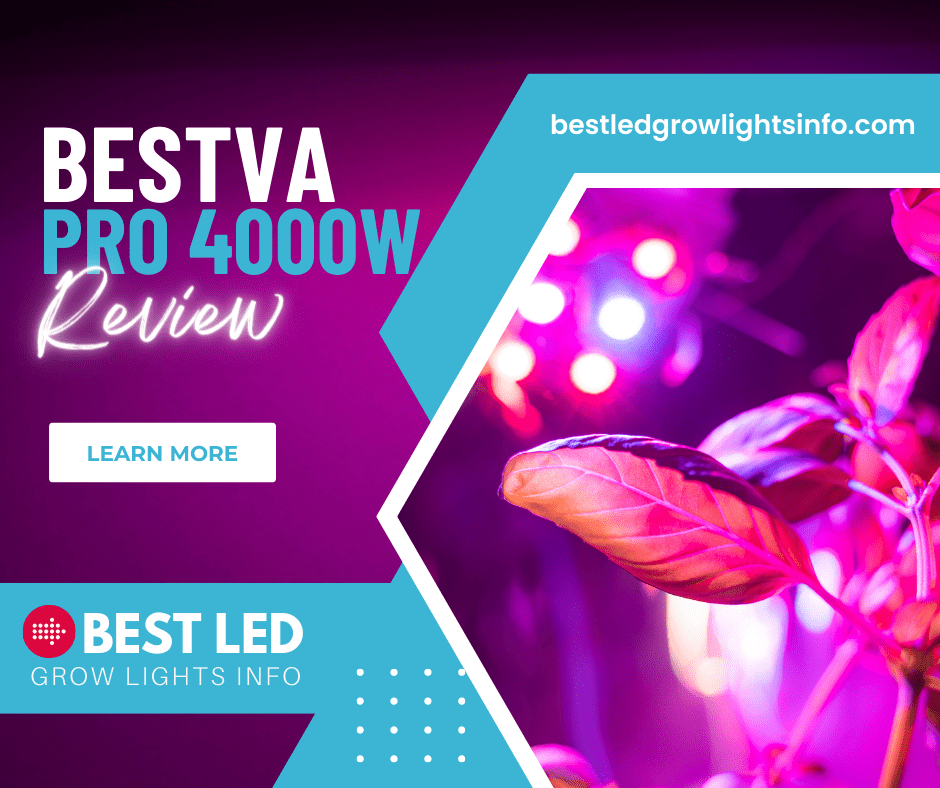 Indoor gardeners classically need reliable and powerful grow lights to ensure strong yields. Today, the number of options is staggering, particularly when you're willing to invest a bit of cash. When I look for grow lights, turning to LEDs is a must, as they're far more efficient. A competitive feature set is also essential. If you feel the same, the Bestva Pro 4000 could be the light for you.
But how does the Bestva pro series stack up to the competition, and is it worth the price? If you're asking questions like that, this Bestva Pro 4000w review is for you. Here's what you need to know.
About Bestva LED Lights
The Bestva brand was founded in California. The company focuses specifically on LED lights, using leading technologies like Samsung LM301B diodes and Meanwell drivers to provide an optimal experience. High-quality aluminum construction is also the norm, offering outstanding cooling with top-tier control systems.
Lately, quantum boards have been making waves in the LED grow light space, and you'll be happy to know that Bestva embraces this kind of tech. Additionally, the lights in the Bestva pro series are competitively priced based on the included features. While they cost more than LED grow lights featuring lower-grade technology, many people – myself included – feel the investment is often worthwhile.
Bestva LED Lights Pros & Cons
Every grow light company has its fair share of pros and cons, and in the spirit of offering a comprehensive Bestva LED review, it's crucial to know that Bestva isn't an exception. However, the Bestva pro series brings plenty to the table, often offsetting any potential drawbacks.
As a brand, Bestva makes use of leading technologies, including quantum boards, Samsung diodes, Meanwell drivers, and high-quality aluminum casings. Classically, the Bestva pro series also features full spectrum light designed to mimic sunlight, supporting every growth stage. Plus, many are dimmable, giving you more control over your lighting scheme.
Quiet operation is another feature that you'll find with Bestva grow lights, which I highly value. Many of the designs are fanless, relying instead on aluminum heatsinks for cooling. As a result, you can have them near your living areas without worrying about noise. Plus, the designs are generally slim and lightweight, making them easier to hang.
However, there are a few drawbacks. First, while the pricing is competitive, Bestva LED grow lights aren't inexpensive. Instead, they're moderately priced, which may be more than some people would like to spend.
The power cords are also a bit shorter than some people would like, measuring nearly three feet. As a result, many people may need an extension cord to reach an appropriate outlet, which is an additional expense.
Finally, while a fanless design is preferable if you prefer quiet operation, heat issues could occur in some situations. However, that's generally rare, so keep that in mind.
Pros:
Energy efficient

Fanless design for quiet operation

Full-spectrum light

High PAR output

Dimmable

Larger coverage areas

Slim designs

Lightweight

Waterproof
Cons:
Moderate price point may be more than beginners want to spend

Short cord

Fan-free design could lead to heat issues in some situations
Bestva Pro 4000W Review
If you're looking for leading technology and need to cover a large grow area, this Bestva 4000w LED grow light might be right up your alley. It can handle up to 36 sq. ft. of space (6 ft. by 6 ft.) at the height of 18 inches, which is sizeable. Plus, you can use the dimmer switch to adjust the light intensity, making it easier to support various growth phases.
Regarding the technology, no Bestva 4000w review is complete without mentioning the quantum boards, Samsung LM301B diodes, and Meanwell drivers. Together, that makes the design highly energy efficient while ensuring a safe performance. Couple that with the aluminum heat sinks, and it also runs surprisingly cool, even without fans.
Another critical thing to mention when talking about the Bestva Pro 4000 is that you get more than the light and a power cord. The box essentially contains everything you need to start using the light, including hanging kits, adjustable rope hangers, and even grow light glasses to make working with your plants easier when the light is on.
While some people dislike the fact that the dimmer is a knob instead of a digital readout, it's still reasonably precise since the strength is clearly marked. As a result, you can easily estimate how much light you're using at any point in time, making it easier to ensure it's set properly based on the growth stage.
Another crucial point for this Bestva LED grow light review is that the LED board and driver are waterproof. You don't have to worry about errant splashes or high humidity, which is a blessing for many indoor gardeners.
When it comes to the look of the light, the slim design keeps it from being intrusive visually. However, some of the accents are vibrant green and have a metallic sheen, so they do stand out a bit. Still, the light isn't unattractive, particularly compared to the boxier designs you see with some other brands.
Finally, as part of this Bestva grow light review, I have to mention the warranty. It lasts for three years, which either matches or outlasts what you find with many competitors. As a result, you get some extra piece of mind when you buy the Bestva 4000w light, which makes the larger investment feel safer overall. 
Other Bestva LED Grow Light Products
Overall, the Bestva Pro 4000w is the largest light in the pro line. As a result, it may not be suitable for smaller grows. Since that's the case, I want to close out this Bestva review by discussing some other available products.
If you like the technology in the pro series but have a smaller growing area, you may want to consider the Bestva Pro 2000w or Bestva Pro 1000w. With the 2000w, you get up to 16 sq. ft. of coverage, while the 1000w can handle up to 9 sq. ft. In the end, both feature the same core technologies, including Samsung LM301B diodes, Meanwell drivers, and aluminum heat sinks.
There are also other product lines to explore. For example, the Bestva BAT Series is high-quality, high-efficiency LED horticultural lighting. If you're looking for detachable power supplies – which give you more versatility when installing the light – you may appreciate the Bestva TF series. For lower-cost options, check out the Bestva BP Series. It has passive cooling and dimming capabilities, all with a budget-friendly price point.
All of the other series have a range of wattages. As a result, you can pick a version that offers you the right amount of coverage, ensuring you have the perfect LED grow light based on your unique needs. No matter which option you choose, you'll get fantastic features. However, if you're looking to handle a larger grow area and are willing to invest, the Bestva Pro 4000w is typically hard to beat.
Build Quality

Coverage

Value for Money

Cooling System

Energy Efficiency
Summary
If you're looking to handle a larger grow area and are willing to invest, the Bestva Pro 4000w is typically hard to beat.
Enjoyed this post? Pin it!