The Best Heated Propagation Mat for Seedlings
When you want to start seedlings, you need to give them the best conditions possible. This includes controlling the temperature, which can be a challenge. Luckily, heated propagation mats for seedlings make this substantially easier. As a result, they are a wise tool to have in your gardening toolkit.
Choosing the right heated propagator mat can be a shockingly tricky process. Not all of them are created equal, so it's important to know what makes a heat mat for plants stand out from the competition. With that in mind, here's a look at what a heated propagation mat is, how they help seedlings, and some of the best propagation heat mats on the market today.
What is a Propagation Heat Mat?
Germinating or sprouting seeds isn't always easy. Most people don't live in areas with year-round warm weather, and most seedlings don't flourish in chilly soil.
Propagation heat mats – which may also be called greenhouse heating mats, seeding starting mats, or something similar – provide a source of warmth. They radiate heat into the soil, ensuring it's at the right temperature for germination, sprouting, and initial seedling growth.
How a Heated Propagation Mat Helps Seedlings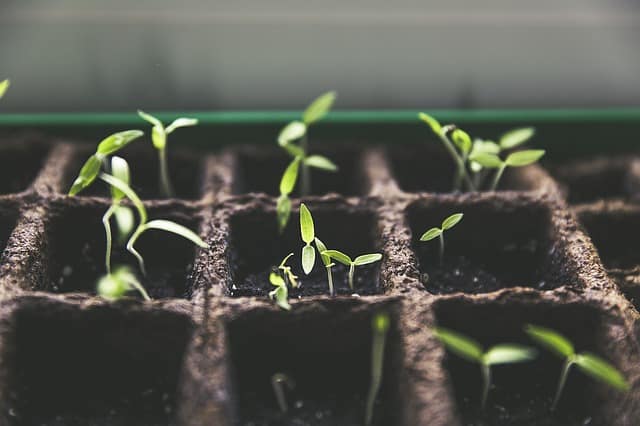 With a propagation heating mat, you can give your seedlings precisely what they need, warmer soil. It can launch the germination process before you plant, whether you use soil or hydroponics. Essentially, it allows you to ensure your seeds are starting in the best conditions possible, and can significantly shorten your sprouting times.
Best Propagation Heating Mats
When you begin looking for a seed start mat, you'll probably be overwhelmed by choice. There are a surprising number of germination mat options available, and figuring out which is the ideal one for you isn't easy.
Luckily, there are a few seedling heating mats that stand out from the crowd. If you're looking for the best seedling heating mat, here are a few that easily fit that bill.
1. Hydrofarm MY10009 Hydroponic Pad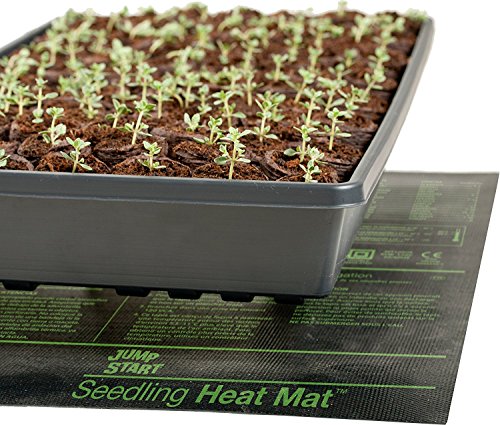 If you're a hydroponic gardener, the Hydrofarm MY10009 Hydroponic Pad is one of the best seedling heating mats around. It can warm the root area by 10 to 20°F above the ambient temperature, making it ideal for colder climates.
Unlike many other models, this one has a long power cord. You get a full 6 feet, so you don't necessarily have to position your seedlings right next to an outlet. Plus, it's waterproof, so worrying about a spill is a thing of the past.
Plus, this seed heating mat is UL Listed, meaning that it meets UL safety and sustainability standards. For added convenience, watering, lighting, and planting information is even printed on the mat, so it's always right where you need it.
There is a range of sizes to choose from as well, the largest of which is 48 x 20.75 inches. If you need a lot of coverage, you may only need one mat, which is a bonus. This seedling heating mat is also fairly thick compared to much of the competition, so it may be more durable over time. But it also lays flat, giving your plants additional stability.
The only drawback, if you can call it that, is that you might need to insulate under the mat. This prevents heat draw from the material below, making it more effective.
Pros:
Waterproof
Long power cord
UL-Listed
Durable construction
Cons:
May need to insulate under the mat for the best performance
Does not come with a digital controller
2. Seedfactor Seedling Heating Mat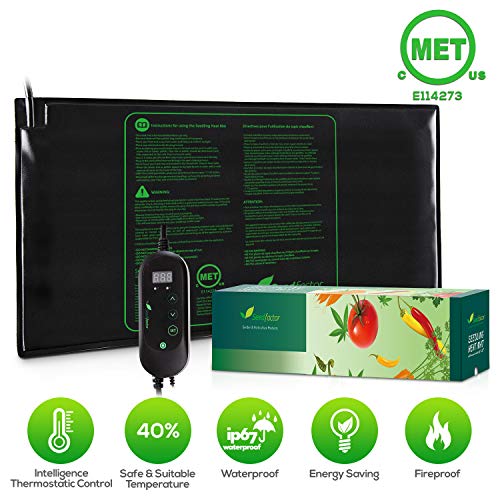 If safety is a priority, this Seedfactor Seedling Heating Mat might be right for you. Along with complying with UL 499, it is also MET safety certified.
You aren't sacrificing performance in the name of safety, either. It can raise the soil temperature by 5 to 30°F above room temperature, with a maximum temp of 108°F.
The design is waterproof, so you don't have to worry about small spills. The power cord is also just shy of 6 feet long, so you don't have to position it near an outlet to plug it in.
Along with the seed starting heat mat, you also get a thermostat controller. Its LED screen lets you see the temperature in real-time, so you won't have any doubts about its effectiveness. Plus, the controller ensures that the soil temps stay stable, which is another great benefit. Setting the desired temperature is also a breeze, usually taking no more than a few button presses.
This heating pad for plants is available in three sizes, so it doesn't provide you with as many choices as some other brands. However, they will meet the needs of most gardeners.
Additionally, it can take time for the mat to flatten out. It arrives rolled, and you may need to set something large and heavy on it (without it being turned on) to get it flat before use.
Pros:
Waterproof
Durable construction
LED digital thermostat included
Long power cord
Cons:
Only three size options
Takes time to flatten out after being rolled
3. VIVOSUN Seedling Heating Mat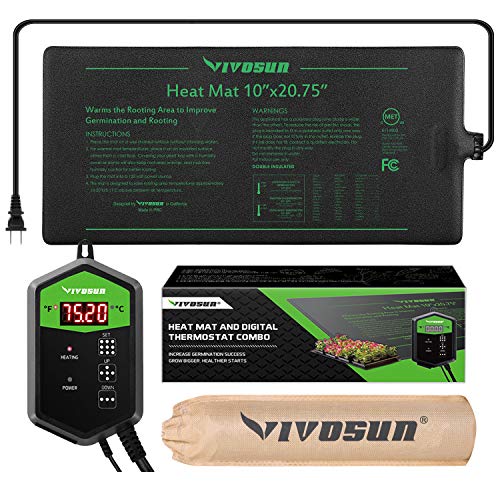 Another option that comes with a digital thermostat, the VIVOSUN Seedling Heating Mat Combo Set, is both capable and affordable. This heating pad for plants can raise the soil temperature by 10 to 20°F over the ambient temp, making it a solid choice for most gardeners. Plus, it can go up to 108°F, so you have a decent temp range to work with, too.
With the digital controller, you can make sure that the temperature stays right where you want it. It's incredibly easy to set up thanks to its simple three-button design. However, some find the provided instructions to be a bit insufficient, so you may have to use a bit of trial and error to get the hang of the controls.
You get a nearly 6-foot power cord and almost 6 1/2-foot probe cord, too. This gives you more control over your setup, ensuring you aren't stuck near an outlet out of necessity.
This germination heat mat meets MET standards. It offers a water-resistant design that can stand up to scrubbing. However, it's important to note that the thermostat probe can't be used safely in very wet soil, so keep that in mind.
Pros:
Affordable
Water-resistant
Comes with digital thermostat
Cons:
Thermostat probe can't be placed in very wet soil
Limited instructions provided
4. iPower Warm Hydroponic Seedling Heat Mat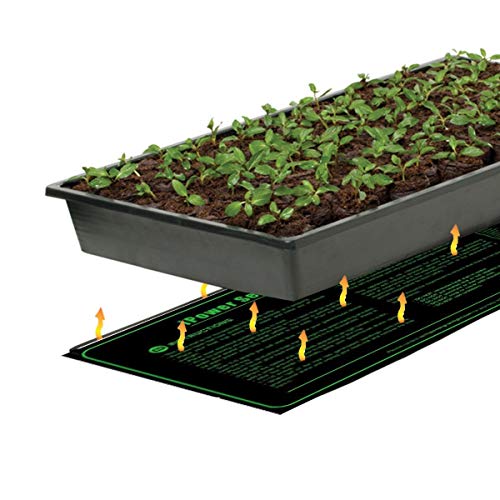 Another incredibly affordable choice that comes with a digital thermostat control, the iPower Warm Hydroponic Seedling Heat Mat, is an excellent option. It can raise the soil 10 to 20°F above ambient temperature and has a maximum temp of 108°F, so it will meet the needs of most gardeners.
With the digital thermostat controller, you can monitor the temperature and keep it at a specific point. The mat will automatically turn the heating feature on and off to keep it on target.
When it comes to durability, this mat does incredibly well. It has a thick, multi-layer design, ensuring it can stand up to greenhouse conditions.
This line of seedling heating mats is waterproof as well. Additionally, the plug is also three-prong, so it is grounded for safety.
However, you may need to insulate under the mat to get the best performance. Otherwise, heat may transfer into the material below. Additionally, it arrives rolled, and you might need to spend some time flattening it out before use.
Pros:
Affordable
Waterproof
Durable
Cons:
Might have to insulate under the mat for the best performance
May have to be flattened out after being rolled
Enjoyed this post? Pin it!