What Is a Cree Grow Light and Why You Need One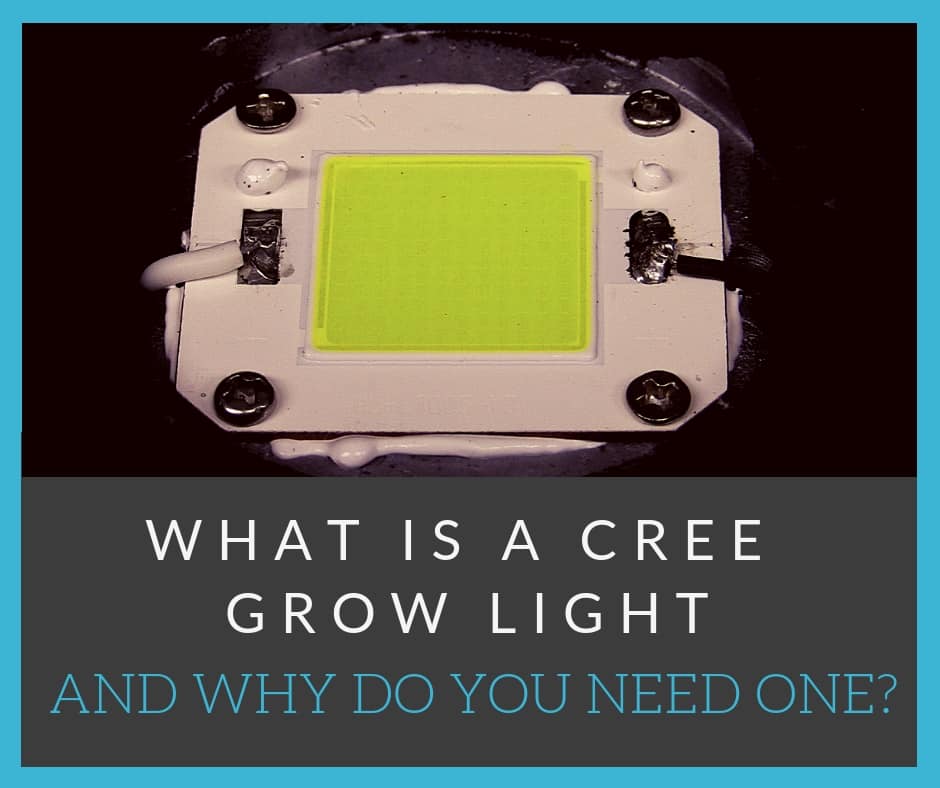 When you grow plants indoors, having the right LED lighting is essential. Plants need specific spectrums of light for the right amount of time each day to flourish. Otherwise, they will fail to thrive and may even die.
Cree LED grow lights are designed to optimize your lighting, ensuring the proper wavelengths are provided to your plants. They can help you achieve higher yields, extend the life of your plants, support long-term growth, and otherwise enhance the quality of outputs.
What is a Cree Grow Light?
A Cree grow light is a lighting system featuring LEDs made by the Cree company. Cree creates some of the highest output LEDs in the industry. Plus, they are incredibly efficient to operate, saving you money on your power bill.
Cree grow light LED bulbs are featured in products made by a range of companies. While Cree produces their own agriculture lights, they also allow other manufacturers to use Cree LED grow bulbs in their lighting systems.
How Does a COB LED Work?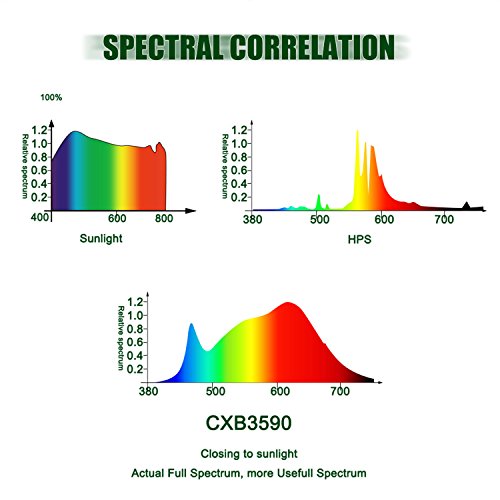 COB LED grow lights reflect a recent trend in the indoor gardening space. An acronym for Chip-on-Board, COB offer many benefits over traditional options. They use an alternative packaging technology than regular LEDs, allowing multiple lights to form a single module. When lit, the tiny lights resemble a cohesive light source instead of looking like several individual bulbs.
Often, COB LED grow lights have increased efficiency, longer lifespans, and better light quality. This can lead to increased yields and stronger plants, allowing them to get the most from your indoor garden. Plus, the higher packing density means you get more light in a smaller size device.
Cree COB LED grow light systems are some of the most popular options around. While there are other COB LED grow light producers who also craft great products, many consider these systems to be some of the best available.
The Best Cree COB Grow Lights Available Today
Usually, a Cree LED grow light kit costs more than options that do not use Cree technology. Then, if the lighting system uses Cree COB grow lights, the price tag is typically higher.
As a result, it is wise to find options that let you get the most for your money, ensuring you get the right amount of capability at the best possible price. Here are some great options.
Go Green 200W Cree LED CXB3070 Powered Grow Light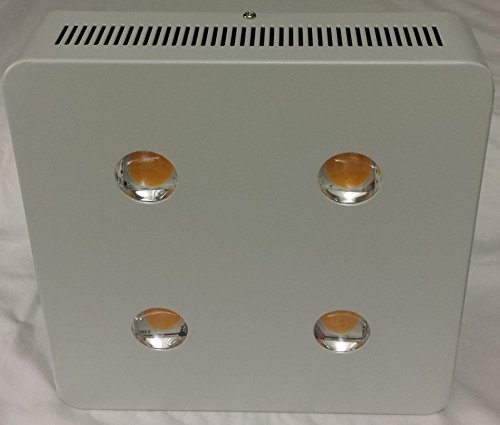 This Go Green 200W Cree CXB3070 Grow Light features four COB LEDs, ensuring your plants are exposed to the ideal light spectrum for additional growth and higher yields. Plus, you get excellent PAR output per watt, making it effective while limiting the impact to your power bill. In fact, it can outperform a 400W HPS lamp, which is pretty great.
Plus, the Cree COB grow lights are paired with high-efficiency drivers. Lenses also concentrate the light onto the plant's canopy, ensuring you can make the most of your space. The lighting is also suitable for flowering, vegetative, and other various growth phases. You won't need to switch out your LED grow lights to promote optimal development.
The only drawback of this option is the less than attractive casing. While it is fine visually and the case is sturdy, do not expect to be pleasantly surprised by the look of this light.
If you are specifically looking for a 200W option, this one is worth exploring. However, you can also take a look at lights using the 200W Cree CXA3070 grow light LED too, as those will consume a similar amount of power and achieve comparable results.
Pros:
200W power consumption
Concentrated light
Minimal heat output
Full and half power settings
CF Grow Cree CXB3590 COB LED Grow Light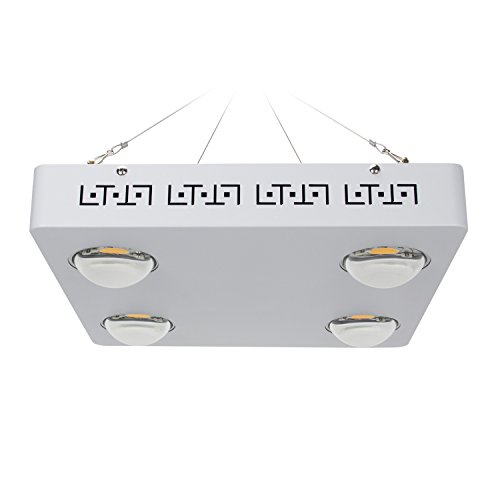 Featuring the power of Cree Grow LED lights, the CF Grow Cree CXB3590 COB LED Grow Light is a 400W dimmable system that can be daisy chained, allowing you to have several lights work together. It can support plants from seedling through the flowering and vegetative states, so you can use it for every growth phase.
Even though the light only uses 400W of power, it produces the same level of full spectrum output as an 800W HPS grow lamp thanks to the Cree CXB3590 grow light bulbs. Plus, this Cree COB LED light is easy on the eyes, which is a nice bonus.
It is important to note that this light weighs nearly 20 pounds. As a result, you need to make sure it is hung in a manner that can support that much weight. It is also fairly expensive, but it supports a large growing area (up to 70 square feet) and has reduced power consumption, so it can still be a solid choice.
There are also different wattages available, so you can get something more or less powerful, depending on your needs.
Pros:
Daisy chain option
Same output as 800W HPS grow light but uses only 400W of power
Attractive design
Dimmable
PlatinumLED Advanced Platinum Series P4-XML2 380W 12-Band LED Grow Light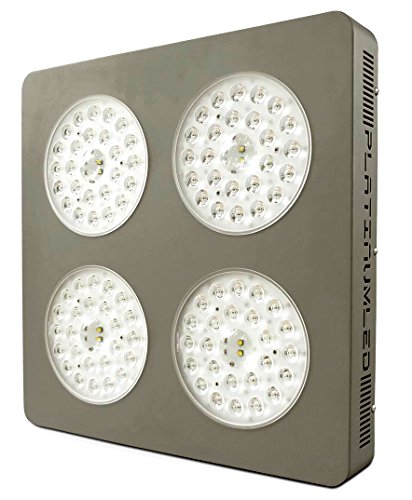 Supporting both vegetative and flowering stated, PlatinumLED's Advanced Platinum Series P4-XML2 380W 12-Band LED Grow Light features the 10w Cree LED grow light. It provides 38 percent higher output than older models while remaining efficient.
Coverage wise, you can use this Cree Grow Light for a 3-foot x 3-foot space during the bloom phase or a 4-foot x 4-foot space during the vegetative phase. This makes it ideal for compact growing spaces, though cannot be daisy chained if you need more coverage.
Like many Cree LED grow lights, this one is a bit expensive. However, you will save on your power bill if you use it to replace a 600W HPS light.
Some users believe that the fans are a bit noisy compared to some other options. If you would be bothered by that, then you may be better off exploring other options.
It is also important to note that this light is a darker gray instead of white. While this isn't necessarily a problem, as the light is still attractive, it may stand out more depending on the color of your space.
Pros:
Replaces a 600W HPS system but uses only 380W of power
Reasonable coverage for the size
High PAR level
CANAGROW Cree CXB3590 COB LED Grow Light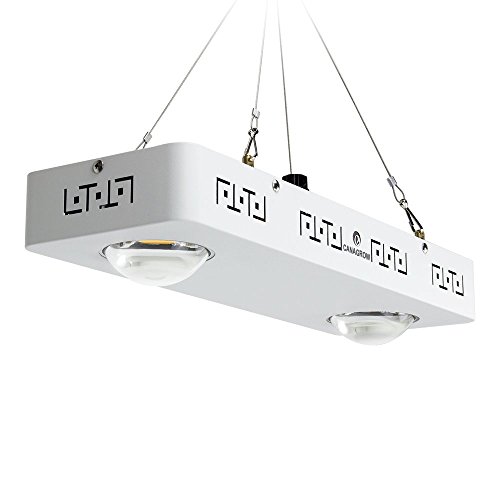 Another product that embraces the Cree 3590 grow light, the CANAGROW Cree CXB3590 COB LED Grow Light is a full spectrum, 200W option with a dimmable power switch. It also features low noise fans, so you shouldn't be distracted by unexpected sounds.
In comparison to some higher wattage options, this Cree LED grow light is also fairly compact. There is the option to daisy chain two of these lights together if you need more coverage than a single light can provide. However, it can support up to 70 square feet, so you may find that sufficient.
As the company name suggests, the light can serve as Cree LED grow lights for cannabis. However, it is also suitable for various flowering plants and vegetables, so you are not limited to that application.
For the amount of coverage, this light is also somewhat inexpensive. If you are looking for a lower cost way to bring in Cree COB LED grow lights, this might be your ideal choice. Just keep in mind that it weighs in at over 11 pounds, which is a decent amount of weight in comparison to the size, so you need to make sure you have somewhere sturdy to hang it.
Pros:
Dimmable
Attractive design
Low noise fans
Can be daisy chained
CF Grow Cree CXB3590 High-Intensity Full Spectrum COB LED Grow Light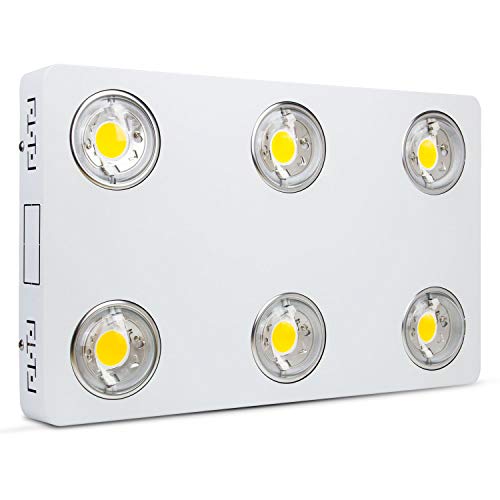 Using Cree CXB3590 grow LED light technology, the CF Grow Cree CXB3590 High-Intensity Full Spectrum COB LED Grow Light is more powerful than the other options on this list. Pulling 600W of power, it has the ability to replace traditional 1000W systems. However, it is still only recommended for up to 70 square feet of coverage, even with its larger design.
This Cree grow lights themselves are rated for up to 100,000 hours of use. Run continuously, that would be over 4,000 days, or more than 11 years.
When it comes to the weight of this Cree grow LED light, this one is heavy. In fact, it weighs around 33 pounds. Make sure you have a strong place to hang it and use sturdy hardware. This light is expensive, so you will want to invest in the right hardware. Otherwise, you may find your high-cost light crashing to the ground.
If you do not need that much power, you can opt for 100W, 200W, or 400W versions instead. You will still get a reasonable amount of coverage, but these alternatives should allow you to save on your power bill since they are lower output.
Pros:
Replaces 1000W HPS system but only pulls 600W of power
100,000 lifetime hours
High PAR value
Cons:
More powerful, but does not offer more coverage
Heavy
Expensive
Enjoyed this post? Pin it!